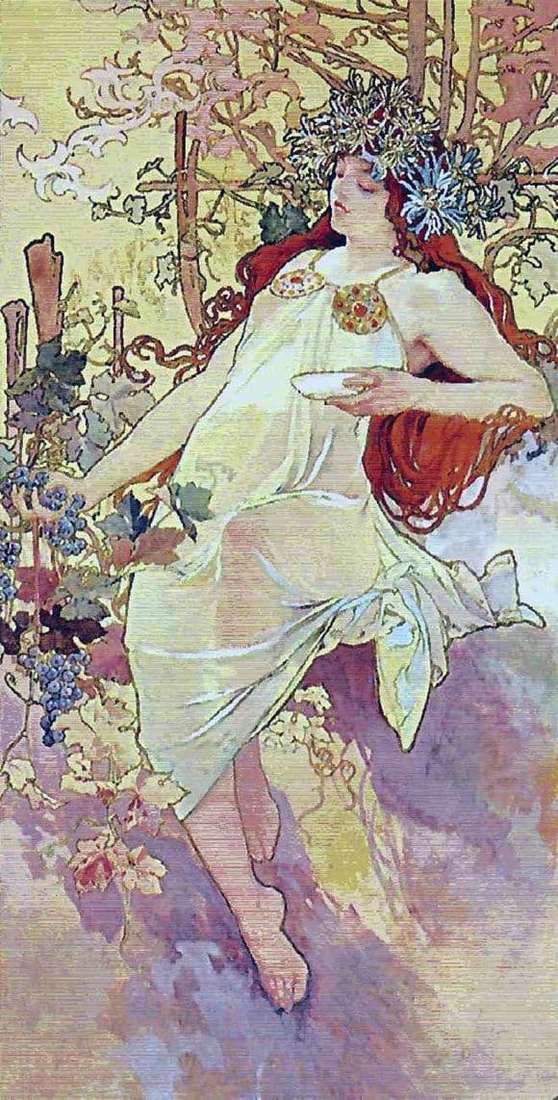 The fly was one of the most famous modernists – that is, of those who believed that art should be indivisible and proportionate.
Widely applying its applied areas – embroidery, bead weaving, painting on fabric – the modernists sought to create the most complete and vibrant image of the reality they perceived. Modern – style, praising life. Bright, full of details, causing or sincere admiration, or lack of understanding, where to look.
"Autumn" is one of the pictures of the "Seasons" series. It depicts the golden mistress herself, who in the version of the Fly seems more likely to be red. She has fiery hair, honey-tinged skin, bright red lips. She is all fiery, burning with a fire of a summer celebration.
An airy blue dress worn over her – a halo of rain and fog everywhere accompanying her – also casts gold, and golden straps hold it on her shoulders. On the chest are two golden precious discs with scarlet rubies hiding the chest. Autumn all seems to be burning, but not fierce, like a wild flame, but warm, like a home. Around her – her attributes. Dried red branches, withering five-fingered leaves of grapes – scarlet, green, yellow.
In one hand, Autumn holds a saucer, the second collects poured berries from bunches of grapes. Autumn – the hostess is kind, generous, abundant. It was as if all the summer sun had gathered in it – after all, all three long hot months, nature absorbed it with every petal and every leaf, and in the autumn it gives away the collected fruits. Autumn Flies – not foggy, not evil and slushy. She is golden and joyous, when looking at her, she thinks about harvest festivals, how the ears of gold filled with gold are collected, how heavy apples are plucked from the branches, how children make bouquets of fallen leaves.
All the best embodied in it – and the evening at the red fireplace in the heat, and shriveled baked apples, and the smell of smoke from the burning leaves. And the memory of the heat left.