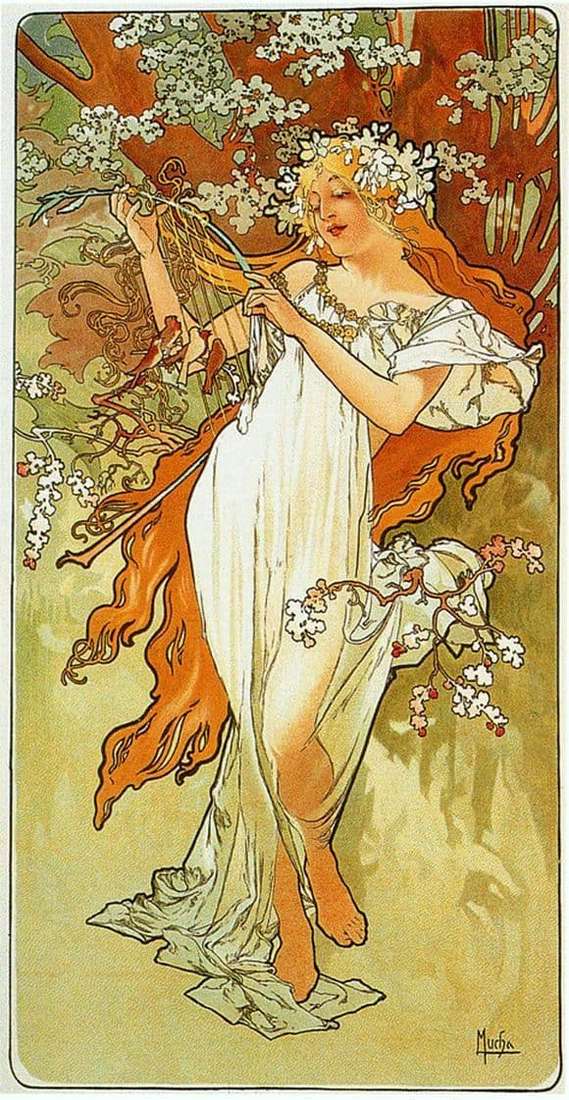 The name of the artist Alphonse Mucha in Russia is not very well known, but abroad his original and unique "modern" was literally a symbol of style at the turn of the "golden" and "silver" centuries. Since Mucha studied and lived in Paris for many years, he was intimately familiar with Van Gogh and Paul Gauguin, he is often mistaken for a Frenchman, but the artist was born in Moravia, he was Moravian Czech by birth, and he devoted many years to his native Czechoslovakia heritage.
He began the future art symbol with the creation of illustrations and the design of several publications in Paris. His works in oil were translated into woodcuts, the unique clean style of painting Mucha was very impressed by the commercial attorney of art, he was ordered theatrical posters and advertising posters for actors and performances.
Fame and fame come to the artist with the poster of the premiere for the play, where the main role was played by the brilliant Sarah Bernard. The poster was so pleased with the eminent actress that she signed a contract for six years with Mucha, ordering him also elements of costumes and scenery. His artwork began to be replicated in posters, postcards, calendars, each fashionable salon, creative workshops, boudoirs of women of fashion and restaurants of prestigious restaurants were decorated with silk panels and prints from the Fly.
The Art Nouveau style in which Mucha created his own unique graphic plots was soon called the "Fly style". The main theme of his works were luxurious, stately, pretty women, surrounded by many intricate flowers and plants, made in a detailed oriental interpretation. The unusual plasticity of the figures, the extraordinary attractiveness and charm of the graceful fascinating Mukhina girls and ladies have earned him the deserved fame of a female beauty singer. The fly creates several thematic cycles about the seasons, flowers, trees, stars, in which he was able to throw out the whole gamut of his admiration and admiration for the power of the beautiful.
Lithograph "Spring" is one of the scenes of the cycle "The Seasons", in which a gentle and slender beauty plays a kind of lyre bent from a long branch of a tree, surrounded by chirping birds and cherry blossoms. Bright golden hair spreads out with warm tongues behind her back, a thin flowing robe becomes entangled in her bare feet, clings to the branches with just blooming flowers. No anxiety, emotional strain, everything is saturated with bliss, the triumph of life and endless sunshine.