Description of the painting by Isaac Levitan "Autumn. Manor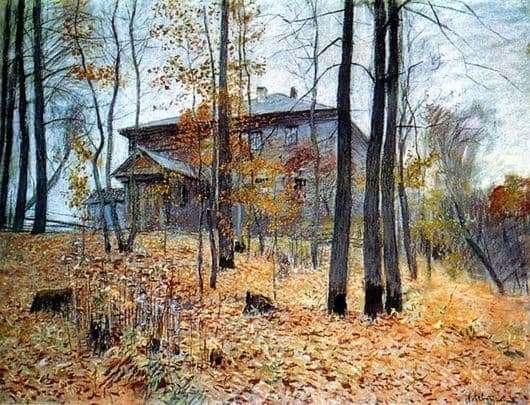 In the 90s of the 19th century, Levitan lived for some time with friends in the Tver province, not far from the Ostrovno village, which still exists today. There was the estate Gorka, belonging to the secret adviser Turchaninov. The main building of the estate – a wooden house on two floors with a mezzanine, painted in yellow. This house Levitan depicted in two paintings – "March" and "Autumn. Manor.
The painting – late autumn, the favorite time of the year of the artist. Gloomy day, the usual for this time. The leaves have already fallen, and cover the ground almost completely. The first snow has not yet fallen, and you can feel the rustling under your feet. Some trees still have yellowed leaves, but the remaining foliage will soon be blown away by the wind. In the background – the famous main house of the estate Gorka – the same two-story building with a mezzanine. A trail leads
to it (probably a road), barely distinguishable under fallen leaves.
Here you can see a striking contrast with the spring March landscape, written a few months later. The painting "March" shows that the house (that part of it that the artist depicted) is painted yellow.
In the painting "Autumn. Manor "colors of the house are almost indistinguishable. They seemed to fade in anticipation of winter, being lost against the background of flying foliage.
Judging by the care with which the smallest details were written out, this place made a great impression on Levitan. There are no people or animals in the picture. The artist leaves the viewer alone with the fall and a two-story house nearby. Despite the seeming desolation, he will not leave; there are almost always people here – Turchaninov's wife and children and their friends, for example, Levitan.
Autumn paintings by Levitan had a great influence on many artists. This theme was present in the work of most Russian landscape painters of the late 19th and early 20th centuries.





(
2
votes, average:
5.00
out of 5)
Description of the painting by Isaac Levitan "Autumn. Manor