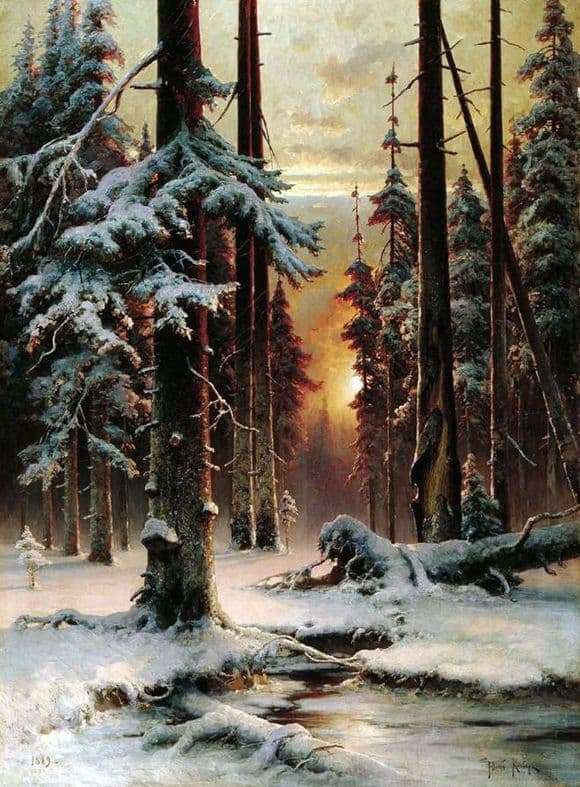 Artist Julius Klever, before leaving in 1890 for his homeland – to Germany, managed to write the Russian "Winter Sunset", which later became famous in many countries.
The picture of 1889 is presented in a series of similar landscapes: a detailed forest and stream on the nearest plan, muddy outlines of trees and a sunspot on the far.
The whole canvas seems to be simple and clear, as if inspired by tremendous power. The distant sun, hiding behind high trunks and branches, touches the entire space with its rays – the land covered with frost, the icy surface of water hanging under the weight of snow crowns – and enlivens it, warming with golden and purple highlights.
"Winter sunset" affects the authenticity of the image. Behind a stream with lightly melted ice, we see an old tree turned up with a root. Around him perennial huge spruce, diluted with several lonely small trees. No artificiality and intentionally beautiful lies. The true nature of Clover is inspiring, amazingly beautiful, peaceful and cozy.
White paint of snow blends harmoniously with the yellowness of the sunset. Spruced with snow, the firs disappear into the distance, disappearing into a dense grayish haze. A piece of the sky, glowing, transparent, decorated with small wadded clouds. A celestial fire is inflamed around the white-hot sun disk: a lace of clouds painted in the fiery color hung in space.
Julius Clover admitted that he had best studied sunsets in nature. He knows the diversity of the sunset day palette. The canvases of the genius connoisseur of the forest call for silent and enthusiastic contemplation, they are romantic, poetic. Russian spaces won the heart of the master, and viewers see life-affirming, eternal, having their own soul.
Today, you can admire the beautiful canvas "Winter Sunset" in the Irkutsk Museum of Art.