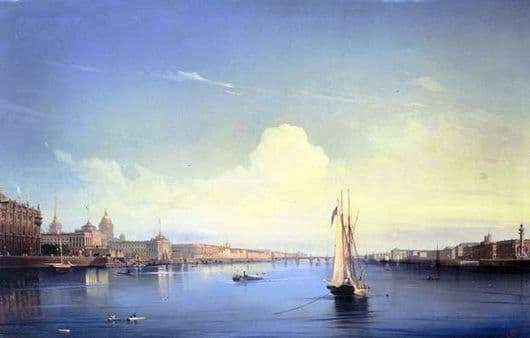 Petersburg is a city that was fully thought out by Russian emperor Peter the Great. Yes, this is his brainchild. He had to come up with such a city precisely because he needed a Ford post from the European powers, who were impatient to take possession of the border lands of Russia.
First, the city was built of wood, but after a series of fires, it was decided to rebuild the city of stone. So began to appear stone houses. These were administrative houses and palaces of those close to the emperor. Interestingly, Peter himself ordered not to build bridges in the city.
Practically all citizens had their own boats, and for ordinary citizens there were public boats, to which carriers were assigned. This is all the idea of the emperor, so that the city quickly became European. Everyone has long known how the emperor treated everything truly Russian.
On the canvas, however, visible bridge. They began to build a little later, long after his death. But skiffs and boats remained and walks that were held every weekend also remained in vogue. The city became equipped with new buildings, which only decorated it. The time of sunset began on the canvas, and the city gradually calmed down after a busy day.
The boat within the Neva became smaller, everything sank into sleep. Then there was not so much entertainment – could afford to read or meet for a cup of coffee. But these are those who are richer, and for poorer, right after dusk they were put to bed. And how beautiful is the river at sunset – it is blue-blue. But the sky is filled with white sunset clouds.
The city gradually plunges into twilight, and then completely plunges into the night.
There are many St. Petersburg landscapes that only adorn the city. This canvas is no exception. How much this canvas gives – peace of mind, a feeling of comfort and silence. And it seems nothing like that – water, sky and both banks of St. Petersburg.