Description of the painting by Isaac Levitan "Autumn. Fog"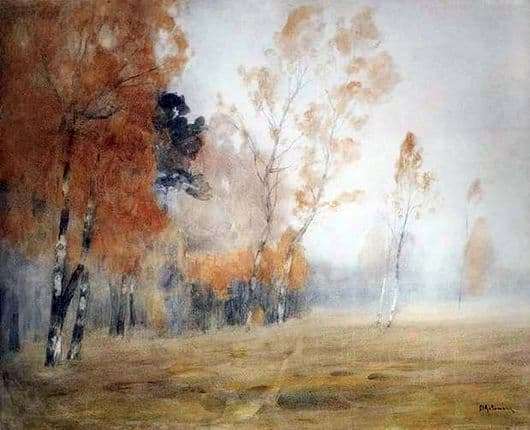 Isaac Levitan was born in 1860 and was one of the significant landscape painters of the XIX century. He did not chase the bright colors and spectacular views. Everything was simple and clear.
Each appearance of a new work by Levitan was his victory. They admired him, they talked about it everywhere. He was recognized as a great master.
Despite his complex nature, when he could easily fall into terrible blues or anger, with the presence of a desire for suicide, his soul always had a place of pure and heartfelt mood for writing pictures, which can be traced in all his works.
The effects that Levitan achieved in his landscapes are amazing, causing delight. Using the technique of watercolor, the artist achieved the purity of color and movement of leaves, as if the work was created in a lyrical landscape genre. He loved to work in this technique, creating amazing works. The artist very finely felt nature.
The mood of this picture is so shaky and subtle that the breath will involuntarily lurk for a feeling of all the purity of the autumn air. Fully diverging into contemplation, imagination dissolves into thick whiteness like fog like trees.
The sensitivity of painting implies a certain sketchiness, external incompleteness, or to be more precise, it creates a feeling of incompleteness. All these techniques in writing a picture are a distinctive feature of pastels and watercolors.
Since childhood, he remembered in his memory beautiful meadows filled with foliage, sad and lush corners of his native expanse with birch trees and other various trees, with which the Russian land is rich.
The technique of pictorial style of symbolism, Levitan perceived already in the last years of his work, later forming his own direction, applying further writing of later famous paintings.





(
1
votes, average:
5.00
out of 5)
Description of the painting by Isaac Levitan "Autumn. Fog"