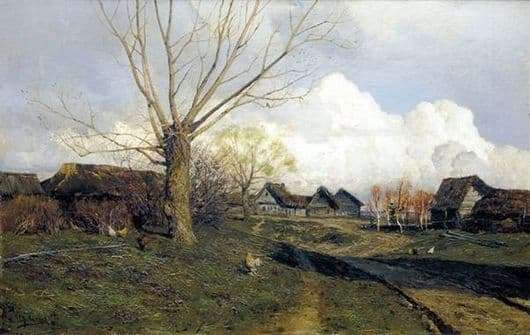 Levitan – a sensual artistic lyric, lived a short but fruitful life. Savrasov's favorite student at the art school, where the future painter studied from the age of thirteen. The canvases created by him, and there are more than a thousand of them, are still appreciated all over the world.
The famous painter, landscape painter, extremely prone to his mood. This is reflected in his works, which he himself called "mood canvases."
Levitan's first love was Chekhov's sister. The brother respected the painter, but strongly recommended and even insisted not to associate his life with him, in view of the artist's eternal uncertainty. After the failure, Levitan began a serious depression, which was reflected in his paintings.
The artist can not write just like that, if necessary. Each of his landscapes is filled with fine soul strings. Sometimes Levitan created canvases similar to a major chord. Sometimes, on the contrary, the frivolous minority crawled heavy clouds along the canvas.
Work in Savvinskaya settlement began in 1884, when Levitan arrived there with his old friend Perepletchikov. The result of the artist's fruitful work was a whole series of paintings by the author, one of which was the painting Savvinskaya Sloboda near Zvenigorod.
"Sloboda" is made so naturally and vividly that it creates a feeling of lightness and airiness of the air near Moscow. Nesterov wrote about the artist that no one was able to see the nature of peace as peaceful as Levitan saw it.
The artist died in the prime of his creative power from a long-term illness. He wrote constantly. His last story was left unfinished, but he, in all its incompleteness, has great artistic value.