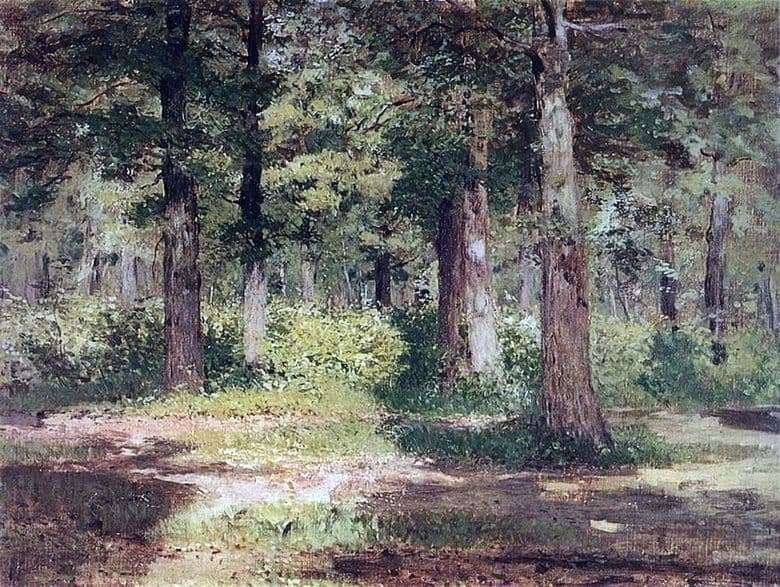 Isaac Ilyich Levitan painted the painting "Forest. Sunny day "in the period from 1883-1884 year. Exceptional nature is the only inspiration for Levitan. The picture has its own lyrical intonation. The artist subtly felt the image of nature for this image. In the picture feels a lyrical mood and a romantic warehouse of realism. Isaac Ilyich sought to reveal in the landscape all the natural beauty and his attitude towards it. The artist tried to capture not only the appearance of what he saw and his impression, thoughts and feelings.
Levitan's talented work is quite informative. The penetrating image of the forest provides philosophical depth and poetic sound of the composition. The plastic "orchestra" of sounding colors conveys to the viewer a delightful image of a forest shrouded in sunshine. The rays of the sun, making their way through the powerful age-old trees, as if awakening the forest from a dream. Painting "Forest. Sunny Day "gives a feeling of joy and peace. Isaac Ilyich with his landscape, as if he hints to the viewer that warmth is also necessary in human life, as this forest needs sun rays.
Careful study of nature, its phenomena at different times of the year and time of day, allowed to paint landscapes with special sensuality. Levitan chose the most characteristic features of the landscape for the picture, incredibly accurately and organically created the composition and put together all the details. Thanks to the ideally selected color base for luminosity, the forest and sunlight are very naturalistic and naturally depicted.
The artist admires the charm of the day solstice, emerald richness and richness of foliage and herbs. Levitan is intoxicated by the play of sunshine and shadows. The picture epitomizes simplicity and vitality.