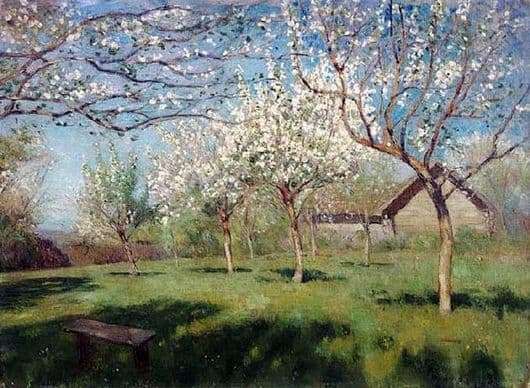 Picture painted in 1895
Levitan knew how to feel the quiet life of nature itself. He could masterfully convey the full charm of an ordinary landscape, find magnificence in the familiar and seemingly unremarkable.
The viewer sees the blossoming apple trees. In the spring all nature only wakes up from a winter stupor. Greens are incredibly gentle and bright. Her paint is still very clean and young.
How beautiful flowering trees. Bright blue sky and flowers of apple trees on its background. What could be more beautiful? It seems that the sky is covered with snow-white lace of the finest work. Nature is a wonderful craftswoman who creates magnificent creations beyond the control of human hands. Levitan knew how to see this charm.
The artist was a true master. He could pick up such colors to most fully convey the most important thing in each landscape. No one else could feel and show the life of nature, its mysterious charm, which is hidden in the absolutely ordinary.
We see quite ordinary apple orchard. It is filled with a white boil of incredibly delicate flowers. In the foreground is a bench where you can sit to fully enjoy the special silence, listen to the mysterious sounds and admire the spring nature. The whole picture is filled with a special light from inside, thanks to which the audience is left with an incredibly warm impression. Levitan used incredibly rich colors that allow you to feel the true reality of all that is depicted in the picture.
Each of us saw similar pictures, but the trouble is that we are always in a hurry somewhere. We have no time to stop to notice the beauty, there is no time to hear the birds singing and the rustling of herbs. The creation of Levitan helps people feel it. It turns out that ordinary nature can be fabulously beautiful. It remains only to wonder how we did not see this charm ourselves.