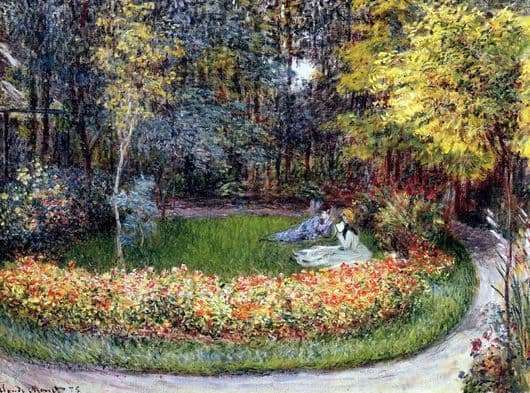 The impressionist painter Claude Monet liked to paint flowers in his works. That is why he has so many landscapes created at different times of the year in the same parts of the garden. The nuisance of some flowering plants by others, the withering of flower beds and foliage on trees cannot elude the painter's insightful gaze.
Therefore, Claude Monet could not imagine himself without work in the open air. So the artist had his own garden. In most of the pictures written in nature, the main characters are ladies. Apparently, the artist compared the female grace with the beauty of flowers. So in the painting "In the garden" we can see two women or girls who are busy reading aloud. One of them holds a book, the other is attentively looking at her friend, as if listening to her. Both ladies have long beautiful dresses. Their hair is neatly arranged, and the huge skirts on the crinoline are carelessly resting on the grass. Next to the ladies – a bunch of bushes with dark red flowers.
Ahead – also bushes, but shorter. They are literally covered with flowers and buds, but among them the yellowing foliage is already peeking. Yellow leaves and the trees. A lush yellowish crown, in which the leaves of acacia are guessed, like a shaggy cap, is put on a thin shiny trunk. A graceful birch with such a graceful bend of the trunk is covered with gold coins of leaves. Next to it is a small tree with a gray foliage. It is evident that this is the end of summer, and the girls do not want to miss these wonderful days. Because they spend them for reading in the garden.
Around the glade, where the ladies settled, there is a path, and in how it is spelled out, as the grass leans around it, there is some kind of movement in a circle. Who knows, maybe this is a symbol of the change of seasons, which is so annoyingly reminiscent of signs of an early fall. The green colors of summer here can be seen only on the lawn itself, but the foliage on most trees is old, gray, almost gray. It seems even a little bit, and she, too, will begin to turn yellow and crumble.