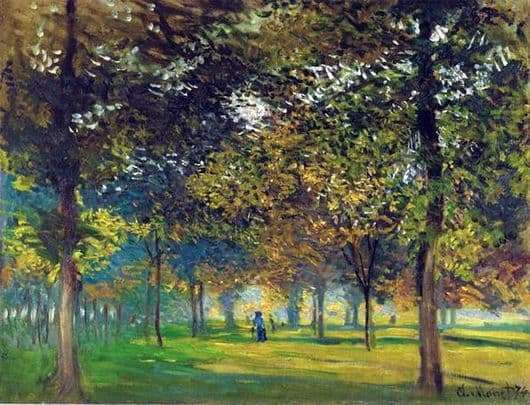 This artist has always turned out amazingly beautiful and at the same time bright paintings. Even if something very dark was depicted, it still gave hope for something bright in the future. So it is here. But then Monet somewhat deviated from his style of work – from impressionism. There is something symbolic in this picture. An alley is a life, a person walking along it, possibly an artist himself, who goes through life and is already coming to its end. But at the same time, the alley itself is bright, brightly illuminated by the sun, the shadows cover it, but not completely.
It is worth paying attention to the season – autumn. This is the time when life fades. But what is interesting, the crown of trees on the canvas is, as it were, illuminated by the sun from the inside. It feels like they are rising to the sky. There is something metaphysical and unusual in this. This is another moment of symbolism on the canvas.
In general, Monet has several canvases depicting different avenues, but this one is symbolic. The rest is a simple image of a place for walking, but here the painter really surpassed himself. Which proves once again about the genius of Monet, about his ability to do something else.
Monet was not always so symbolic. Often his portraits or landscapes were just peculiar evidence of the time. Actually impressionism translates – the present time. Artists of this trend painted, as a rule, what they see here and now. It turned out well, even more than not bad.
At the exhibitions there was no end to the visitors and there was even a time when it was necessary to increase the hours of visiting the exhibitions. They, the impressionists were not so many, but alas, not everyone was able to remain faithful to this style. Monet is one of those who sometimes still departed from his direction, but more often returned. So actually it was with everyone, but not everyone had enough wisdom to return to the sources.