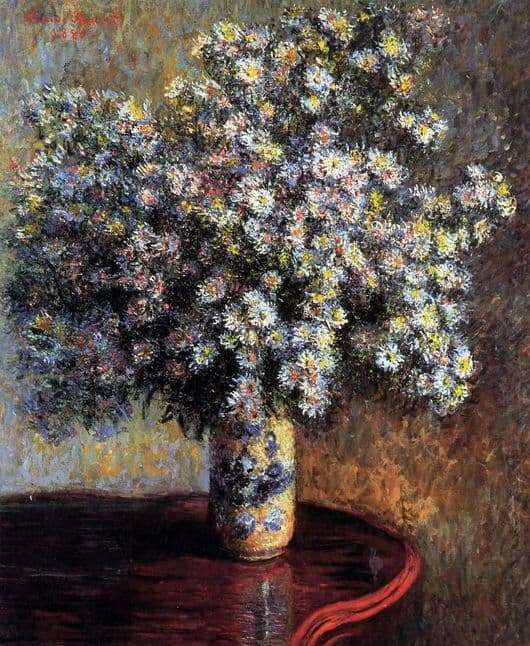 Among the works of Monet, there are a large number of still lifes depicting flowers, the painting "Asters", completed in 1880, it is from this series. By writing such paintings by the French artist inspired the work of painters of the Barbizon school, such as: Gustave Courbet, Edouard Manet, Camille Corot.
In the picture "Asters" depicted a bouquet of flowers of the same name, which are placed in a small vase and placed on a table near a faded wall. In such paintings as "Astra", the French painter and the founder of impressionism tried to convey how changeable the environment is, the color of the world, and not to spoil the first impression of looking at nature and its wealth.
Monet wants to convey to the viewer that the beauty of nature has no boundaries, be it in a colorful open field or in a dark closed room, "Asters" here act as a ray of light, an inexhaustible source of energy.
The author uses his characteristic approach of a perfectionist, who loves everything to be perfect, he wants to convey with his picture as many positive emotions as possible to the viewer. Monet, unlike his other Impressionist colleagues, such as Renoir, for example, does not paint his pictures for the sake of earning money or attracting clients. For him, it is important that he be able to convey all the features of the objects depicted in his picture.
The founder of impressionism, always aims to lay in a work, a certain meaning that will be interesting to guess and reveal to the connoisseur of art. The same hidden idea of ​​the author is in the simple at first glance still life "Asters". Here, first of all, is opposed to the dim man-made darkness and natural light, emanating from the beautiful colors. Monet makes the viewer think, so his work will always be popular and famous, as there will always be a human curiosity to solve the riddles of his paintings.