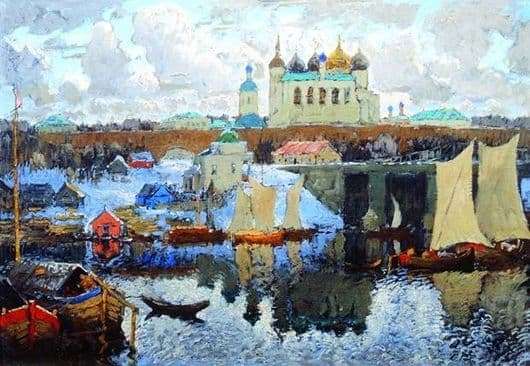 In the picture K. I. Gorbatov "Novgorod" depicts a view of the city from the river. In the foreground are many white-sailed boats. There are a lot of people in boats. Most likely, these are merchants who go to serve in the church. They all sail to the pier of the glorious great city of Novgorod. In the eyes of a strong ripple in the water. But even through it one can see the reflection of the majestic domes of the white church.
In the city of early spring. Although the ice on the river has already gone, all the land near the pier is covered with white snow. Under the high fence of the central part of the city there are many small houses: red, yellow green. Against the background of pristine white snow, they look especially bright.
From the pier, the city is separated by a wide high yellow fence. It extends around the perimeter of Novgorod. Near the pier is a large gate. Behind the high city fence one can see the colorful roofs of houses. Somewhere far behind the fence there is a large crowd of people. Many people can be seen near the city fence – people are in a hurry to enter the city.
The snow-white church with colored domes towers majestically and proudly over the whole city view. Of course, this church is the central part of the picture. The church stands out with a bright white spot against the gray dull landscape of the city view. The artist thus emphasizes the importance of divine faith, the special status of the church. No wonder on the canvas of the dome of the church strongly towers above other buildings. In the city there are no more buildings of similar height. Only the church has the right to be so close to heaven, so close to God. A divine luminescence falls from the dome of the church from heaven.
And the people are coming and coming. Boats crowding each other so much that there are no more places for their mooring. And now the whole small patch of the river near the pier is packed with boats with white sails.