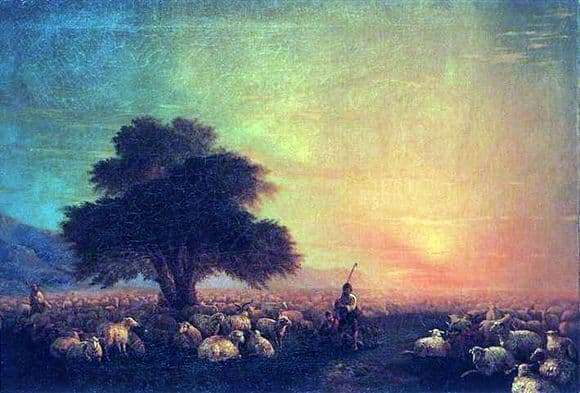 Aivazovsky is known to all as a marine painter. For him, the sea is something like the foundation of the universe. Creator grew up on the coast. Only he managed to convey all the power of this element, its unimaginable beauty and power. Looking at the sea pictures, life is felt, the rustle of waves is heard, peals of thunder. But the mark in the history of creativity is an artist of marine themes. Often there are also sheep on his canvases. One of these canvases is "Sheep in the pasture".
The picture is written in crimson-brown shades. One of the main places in the work is assigned to the scarlet sunset. The hot sun rays illuminate everything with their beautiful light. Even the sheep lying in the field seem truly golden because of the sunset sun rays. The sky is given a large part of the canvas. The border of the sky and the earth is not visible, everything is hidden behind the evening fog.
A spreading tree located in the middle of a glade seems almost black, as if the border of shades of a crimson blue-gray sky passes over it. In the foreground is a shepherd, he stands with his back to the whole flock. A little further away is another.
Despite the fact that in the picture a special place is given to the scarlet hues, it blows from her incredible calmness and peace. You can look at the picture indefinitely, to look for more and more new details. If you look closely, then through the fog you can see the blue sea. This is such a soft border between the dark surface of the earth and the warm light of sunset rays. Aivazovsky could not fail to contribute to this work a little bit of his favorite elements.