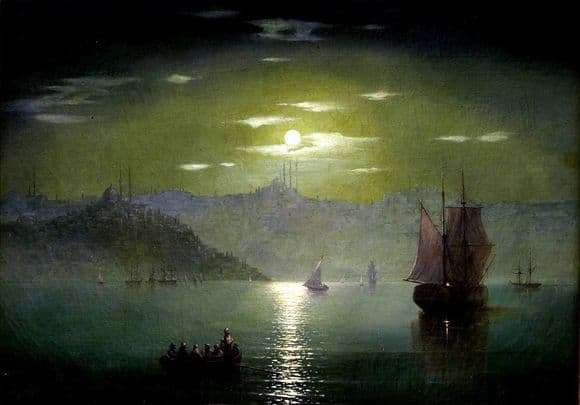 The artist knew how to love the sea and the night, which allowed him to create masterpieces of ordinary things that open to the eyes of many people, but they do not notice all the beauty of the moment.
One of the best paintings of the night Aivazovsky is his canvas "Moonlight". The first thing that catches your eye is an optical illusion created by the hand of a genius. The moon path is able to move, or at least it seems so. Wherever the viewer is – the path will lead directly to him.
The landscape created by Aivazovsky is full of romantic feelings and poetry. It is perceived as a confession of love for the moonlit night unsurpassed in its beauty. The moon illuminates everything around during its reign in heaven. The canvas impresses with its vitality and naturalness. Here you can feel the harmony of the sea and man. And the moon, which indicates the correct path, runs its rays over the waves. Damn landmarks.
The saturation of the color palette affects the harmony of combinations of different colors between themselves and a huge number of nuances. Colors do not contrast, but imperceptibly flow into each other. These smooth transitions reinforce the effect of the integrity and harmony of the created image.
The graphic, precise in terms of graphics, gains clarity through the rich colors chosen by the artist for this work. Aivazovsky's endless love for the night sea is transmitted to the viewer.
Poetically recreated images of the sea and the moon fascinate and attract to themselves. The expressiveness achieved through clarity and saturation leaves no one indifferent.
Listening carefully, you can distinguish the quiet sound of the waves, the blows of oars on the water, feel the gentle whiff of the sea breeze and feel the tranquility of the sleeping city, which the artist depicted in the background. Which once again proves how realistic the picture is and full of life.