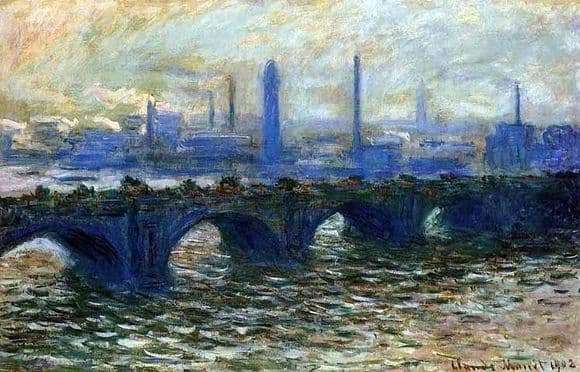 From 1899 to 1904, the famous French Impressionist devotee Claude Monet created another series of paintings, painting from life the landscape of London's Waterloo Bridge.
Following the main principles of the artistic direction, he photographically grasped his gaze with glimpses of passing sunrises, morning fogs, and sunny and cloudy moments. Brushed canvas conveyed the subtle nuances of nature's moods, its changeable, capricious nature.
The cityscape of London is presented to the audience in foggy, but easily recognizable features. The horizon is streaked with factory pipes and industrial buildings, with smog clubs whitening above them. The central part of the picture is crossed by the main object, to which Monet draws our attention – the archway of Waterloo, growing from the river depths of the Thames. On the nearest plan – a water smooth surface dotted with moderate force.
Sometimes the artist draws a light sailing boat floating on it, surrounded by reflected golden sunshine. When the light is at its zenith, then the bridge, the river, and the boiling industrial life flood its warm light. During the fog, everything is pale purple, fascinating, flickering.
With bold small touches of the brush, the painter shares with us his impressions: admiration and love for the observed elusive moment of life. Towards sunset, on a cloudy day, the bridge is particularly beautiful: a powerful stream of light breaks through the thick clouds of rain and falls into the openings of the arched recesses. A fabulous, romantic scene that the great impressionist did not dare to miss and gave everyone the opportunity to admire this poetic moment.
Monet's series "Waterloo Bridge" aerial, mysterious, even magic is a clear proof of the original talent of the Parisian artist.