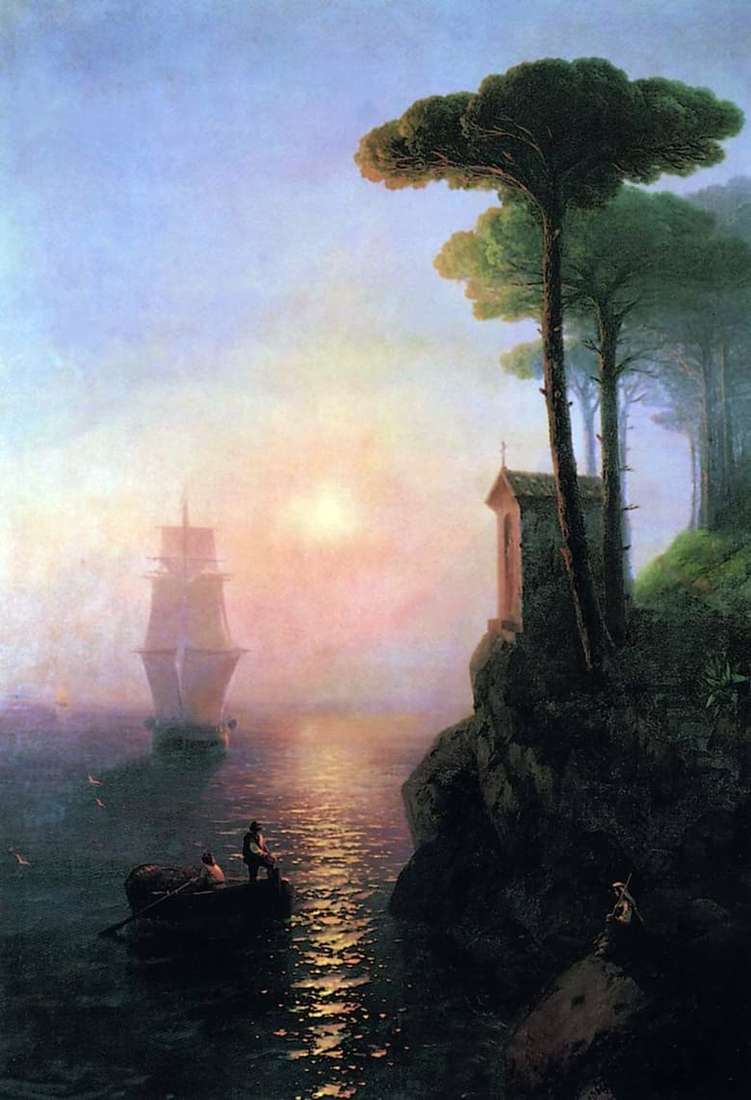 Created in 1864, used canvas and oil, size – 208 by 149 cm. Located in the Feodosia Picture Gallery. IK Aivazovsky, Theodosius, Crimea.
In 1840, Ivan Konstantinovich went on a four-year journey through European countries. It began with a visit to the original Mecca of the artistic world – Italy, which presented such great artists as Raphael Santi, Leonardo da Vinci, Michelangelo, Giorgione, Sandro Botticelli and many others to the whole world. First, the young artist went to Venice and Florence, then to Rome. It was in this southern state that he met many representatives of the Russian enlightened intelligentsia, among whom were the writer N. V. Gogol and the artist A. A. Ivanov.
Italian landscapes, harmoniously combining the simplicity of human existence and the beauty of the sea, forever remember the painter. There they inspired him to write the order of fifty large canvases, but even after returning to the Russian Empire, he did not stop drawing them. The master even dreamed of sending him on another journey, so that after many years he would rediscover the Apennine Peninsula and show talent polished by time and experience. Unfortunately, when the preparations were almost completed, the marine painter passed away. He was 82 years old.
Dark foreground shows a girl sitting on the beach. It seems that a man who stood on the bow of the boat cannot wait to see her. He may have sailed from a large, slightly vague one due to the morning mist of a sailboat to see his lover. A woman descended to the water along steps carved into the rock that start from a small stone chapel. Next to it, slender pines of pine grow, unusual for the inhabitants of Russia. As with the ship, their outline is concealed by a delicate pinkish haze.
In the background, the dawn reigns supreme, through the translucent clouds flooding the sky with pinkish coral and soft lilac. The solar path contrasts brightly with a greenish and calm wave.