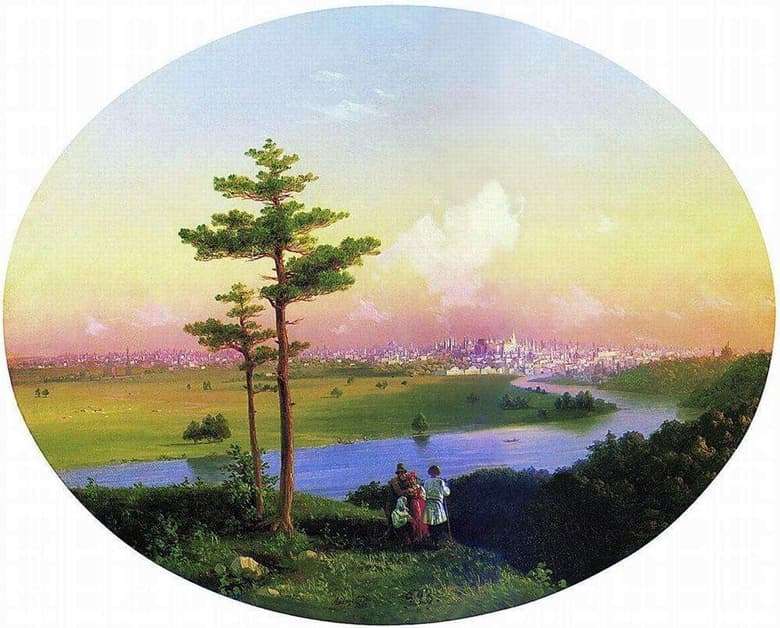 Created in 1848, materials: oil on canvas; size: inscribed in a rectangle 40 by 51 cm oval. Stored in the Russian Museum, St. Petersburg, Russia.
The painting depicts a rather rare topic for Ilya Konstantinovich – the urban landscape. It is made in his favorite romantic style, but with a large share of naivety, especially when creating idealized images of peasants dressed in traditional Russian attire: a standing long shirt with a standing man, white shirts and sundresses, a scarf and red kokoshnik on women. There is every reason to believe that staffing is used, a pictorial move, when people or animals are added to the canvas not as the main characters, but to create certain effects. For example, here the scale and depth of perspective are emphasized. It is believed that this and another similar creation of the master timed to the holding in the capital of his solo exhibitions.
Landscape panorama shows what kind of view from the Sparrow Hills, located on the right bank of the Moscow River, in the XIX century. even before the large-scale construction of buildings of Moscow State University, the emergence of a popular observation deck and building on the left bank. Nevertheless, the golden-domed and white-stone city is easily recognizable if you follow the curves of the river reflecting the sky and look more closely at the detailed background – the essence of the entire canvas.
The characteristic style of the master, who was then only twenty-one, was still being formed, but still recognizable in the soft and rich hues of color when writing the sky and light, dissolving in the haze on the horizon of the clouds. Between each other, delicate pinkish-orange, lemon, bluish-purple colors on the upper half of the canvas and rich yellowish-brown, herbal and dark green – on the lower one are perfectly contrasted.