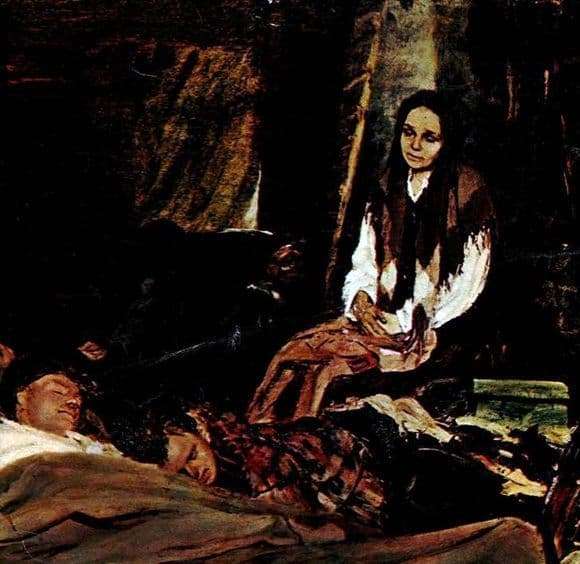 Boris Mikhailovich Nemensky was a Soviet teacher and painter. The artist was born in 1922 in Moscow. As soon as he graduated from college in 1942, Boris went to the front. During the service he was able to create several sketches on military subjects. One of such works is the painting "Mother", based on the plot of which a poem about the war will be written later.
On the image is a woman, wrapped in a headscarf and watching the soldiers sleeping around her. She herself sits beside them, as if guarding their sleep. Proceeding from the verse narration, the soldiers knocked on the woman in the house for the night. She also has sons, who somewhere far protect the fatherland from the Nazis. Mother let in tired soldiers, fed them with everything she could find in the house, and laid them on the floor, giving them the last warm clothes as a mattress. While the tired and exhausted young guys went to bed, the woman rushed to the icons, praying God for the salvation of the soldiers, for their return to their home.
In the morning, the rested guys thanked the hostess and set off, and she finally wished them to defeat the enemy as soon as their mothers, who can also shelter ordinary Russian soldiers for the night, quietly reading the prayer for their sons, wait for them at home.
During the war, people helped each other as best they could, and the concept of "alien son" did not exist. Therefore, such a story could well happen in front of Nemensky himself, because he managed to convey the whole range of feelings and emotions of the main characters in the picture, where the mother fondly watches tired soldiers, remembering her children. Work is a kind of symbol of a terrible and merciless war, at the same time showing the solidarity of the Russian people and the depth of the soul of ordinary people who have to survive in such a terrible time.
The picture is filled with feelings and hopes of salvation, which all Russia only thought about in those difficult years.