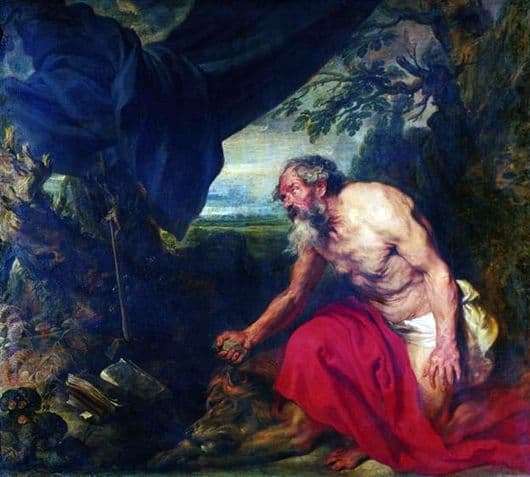 Van Dyke wrote a huge number of portraits. Plots mythological and religious become the main themes of his paintings.
For two years he helped Rubens, which was the reason for such a strong influence on his painting of such a lush manner inherent in the painter. Van Dyke constantly varied the images that were characteristic of Rubens. He was able to give each character a very special, incredibly elegant look with individual features.
Initially, it seems that this picture is incredibly contrasted with such refined portraits of the master. Heroes have always been fully buttoned in costumes. But here the body of Jerome is semi-naked.
The viewer does not feel the special life of the body of St. Jerome, unlike Rubens. We feel his concentration on just one task. The goal is to convey the thought as accurately as possible. The figure of Jerome conveys the passion of the soul that has broken out. The visualization of this is the bright red fabric that wraps around his body.
Even the open flesh at the Dyck baths looks completely closed. It is protected by a very thin cover. All our attention is deliberately shifted to the impulse and fire that move a person.
The viewer has the impression that Van Dyke himself does not want to look at the nudity of Jerome. The difference is that even the dressed figures of Rubens seem to be stripped.
The crumpled book pages at the bottom of the picture create the feeling that Jerome's nudity is a kind of husk. Everything. What had to be dropped was already dropped. The soul is naked to the limit and breaks out.
Rubens also gave people the bodies of the gods of antiquity. Between the two artists there is a clear boundary between antiquity and Christianity. That is why, at first glance, identical images turn out to be so different when viewed in greater depth.