Description of the painting by Anthony Van Dyck "The Crowning with a Thorns"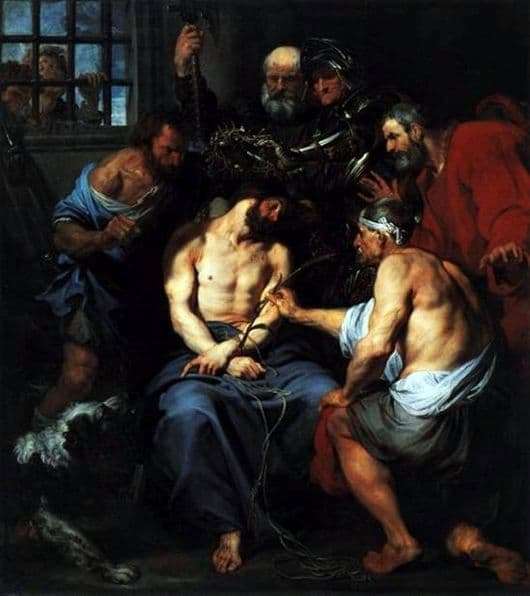 Van Dyke is a talented student of Rubens, who wrote his famous painting "The Coronation with a Crown of Thorns" at the very tender age of eighteen.
As a child of wealthy parents who supported his talent, he had the opportunity at the age of 16 to open his art workshop. In it he creates his works about Christ and his apostles.
It is known that the painting "The Crowning with Thorns" Van Dyck wrote in two versions. Only one of them survived, the second in a row, the first irretrievably lost.
On the Madrid version in the center of the picture is Christ, who is surrounded by executioners. Naked strong torso shaded active blue, lying on his lap raincoat. The warrior laying the crown on Christ is tense, the picture is filled with anxious expectation and pain of the martyr.
Despite suffering and cruelty, the picture is filled with incredible light. It seems that he does not fall on Christ, but comes from within his naked body. The author literally sated a picture of divinity.
Despite the fact that Van Dyke studied with Rubens, in his manner he tried to move away from the usual writing style that was typical of the teacher and, in the end, even surpassed him in skill.
Rubens was jealous of the success of his young assistant, but even he could not help but note his outstanding abilities. Rubens noted "equal skills with him" in writing faces. The remaining connoisseurs, or most of them, believed that Van Dyke had left his distinguished teacher behind him, and only Titian was ahead of him in talent.
Van Dyke differed feature of his work on the canvases. Eyewitnesses later wrote that the artist was engaged in portraits quickly, wrote a lot, put the final touches later. The artist worked on the plots in a completely different way: he planned a definite front for himself and when he finished, he immediately stopped writing.





(
1
votes, average:
5.00
out of 5)
Description of the painting by Anthony Van Dyck "The Crowning with a Thorns"