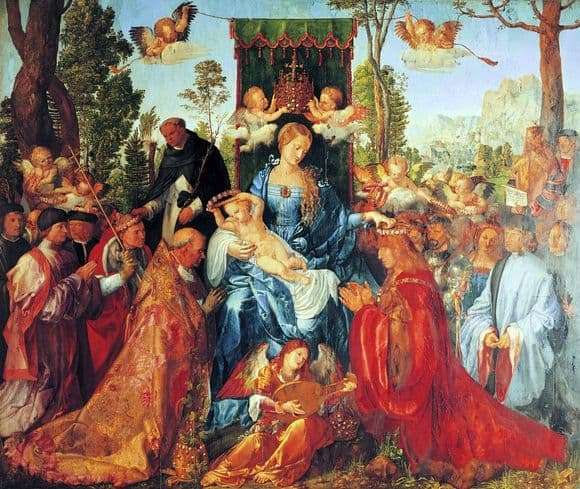 Here is the most recognizable work of Albrecht Dürer, on which the artist worked for several years in Italy. The Church of Santo Bartolome for German parishioners living in Italy ordered this pictorial work from the superpopular Dürer at that time.
In private correspondence with his acquaintance, Dürer wrote about the trend towards the use of bright colors, rich colors, which is gaining popularity, so in an effort to surpass the popular painters of the time, he embodies all the fashion trends of that time in his work, because the picture is full of bright colors, incredibly lively and dynamic, the atmosphere of the plot plot is truly festive. In the same correspondence, Durer noted his fears about the envy of local artists, said that he was experiencing, as if he could be poisoned, feeling the increasing attention around him.
The plot of the canvas is built on the image of the Dominican custom of the monks who used wooden rosaries in the implementation of the sacraments and prayers. In contrast to the attributes of other peoples, the Dominicans used a rosary, painted in contrasting white and red colors. Traditionally, white in culture symbolizes the joy of the Virgin Mary of the Virgin, red is the suffering of Christ. On the towering throne, trimmed with green fringe, sits the Virgin Mary with the baby Jesus.
The worshipers bowed their knees before the throne, bowing their heads humbly. Two figures of worshipers are depicted before the Virgin Mary: this is Pope Julius the Second, the head of the clergy (left) and the emperor Maximilian the First with his retinue (right). All those who gathered on this day were honored to receive wreaths of roses.