Description of the painting by Albrecht Durer "Prodigal Son"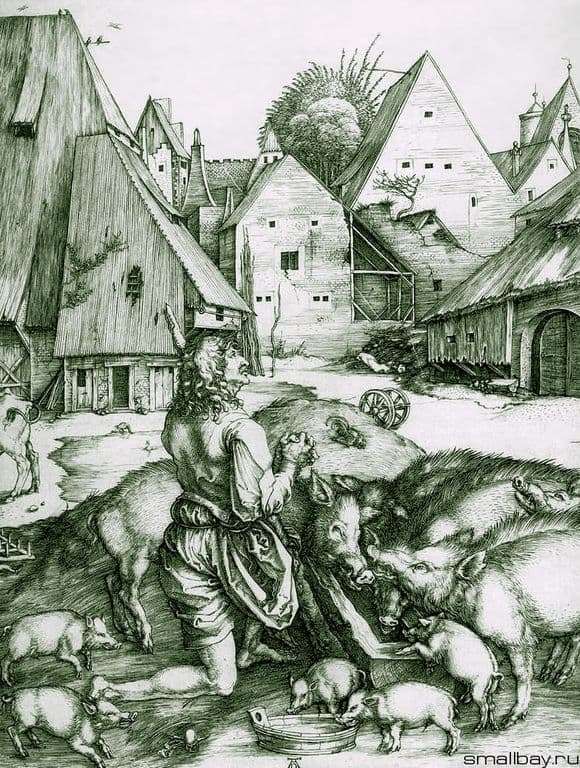 The engraving is one of the variations of the parable about a man who has spent his father's money and found himself in poverty. The history of this work goes back to the distant 1495, when Sebastian Brant published a poem on the subject of the Gospel parable. After that, the artist Albrecht Durer was inspired by what was read and decided to visualize the story in his work.
A distinctive feature of the engraving was the modern vision of the main character by the artist, who does not resemble the classic image of the prodigal son from parables. The creator identified in the work a German village of the 15th century, where grazing pigs settled down, next to which a young man is depicted. His image was worked out more carefully: the master wanted to convey as much as possible his hopeless position of poverty, to which he came on his own.
The viewer can feel the versatility of emotions that are hidden in the engraving.
Confusion
and disappointment are intertwined with the hurt and split of the inner "me." Against the background are old withered houses strewn with holes in attics and rotting boards on the roofs. The earth is well-fed in puddles, and cattle are walking about nearby. Also in the background are old wheels scattered around, hay randomly lying around. In general, the engraving furnishings create the impression of a certain hopelessness that can comprehend anyone who unreasonably disposes of what he has. Durer even managed to convey some of the emotions of animals around, making it possible to understand how sad the position of a young man is.
Religious theme has become one of the main works of Albrecht. One of these engravings was the image of the horsemen of the Apocalypse, flying over the souls of dead people. The master skillfully visualized his thoughts in images, keeping the balance of spiritual and physical. In other words, looking at his works, the viewer managed to feel the idea that was contained in the most carefully traced trifles.





(
3
votes, average:
4.00
out of 5)
Description of the painting by Albrecht Durer "Prodigal Son"