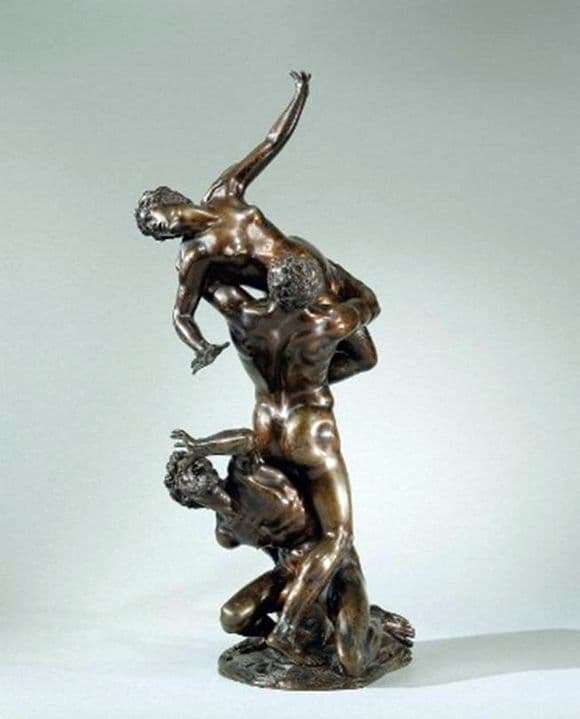 Of great historical importance are the statues of Dzhamboloni "The abduction of the Sabine women", executed in 1583. They depict the very moment of the abduction of future wives by the Romans.
According to history, this episode had its place in 750 BC. At that time, Rome was inhabited only by men, then the cunning ruler organized a major holiday, where he convened neighboring tribes. Those sewn in full, the whole family, including wives and children. Suddenly, they rushed to the invited, who were unarmed, and kidnapped women.
The indignation of the neighboring tribes had no limits, and they attacked Rome. Especially difficult and long were the hostilities with the Sabines, during which they lost a lot of girls.
With the help of the Sabinean women, the Sabineans entered the city, where they defeated the Romans. During the decisive course of events of the battle, women accustomed to their husbands, who had children from them, rushed between the rivals with pleas to end the battle. These brave women were able to stop the bloodshed, the two peoples stopped the battle and united in one state. We can say that Rome was saved by these defenseless women.
Dzhambolonya in his work showed an episode of arrogant abduction. Roman men are depicted with beautiful athletic bodies. The sculpture is made of a whole piece of marble, this was the first many figure sculptures, which can be viewed from all four sides. This sculpture stands on a marble pedestal with reliefs created in bronze.
The sculptor depicted three figures: a man – a Roman, carrying a Sabine woman in his arms and a Sabine woman trying to protect his woman. A woman looks back at her husband, and he is exhausted, in protest, shows his hand, thereby recognizing his impotence. The artist shows in his sculpture an eternal feeling of love and the struggle for it.