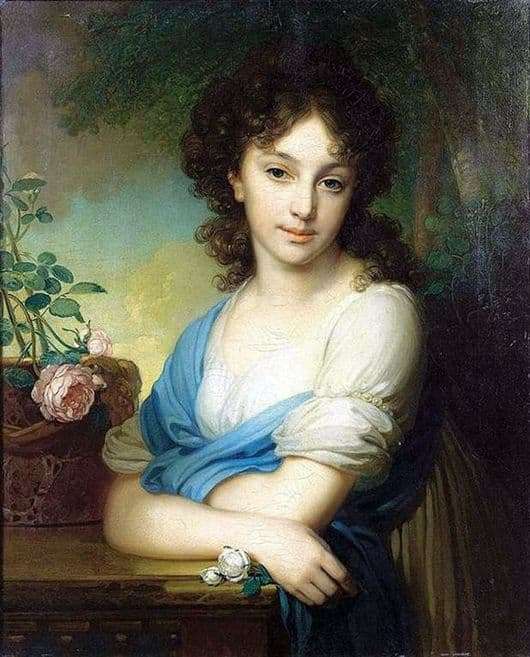 The divine beauty of the daughter of Ober Chamberlain A. L. Naryshkin, could not leave indifferent the icon painter Vladimir Borovikovsky.
The formation of his work happened in childhood, when his father and brothers, being icon painters, taught the future artist all the basics of craftsmanship.
After serving in the Cossack regiment from 1774-1780, he retires with the rank of lieutenant, devoting his further fate to painting.
He begins to write images for temples, and later, he decides to take individual orders for portraits of people. So it was later created a masterpiece from a recognized master portrait.
Being the maid of honor of the empress, the young Elena at the age of 15 was married to Prince Arkady Suvorov, but the union was unhappy for her because the spouse was absolutely not created to create a serious relationship.
After 11 years, she remains a widow, already having four small children. After the death of her husband, she left for Europe for a long time, but sometimes she came to Russia for short periods. Due to her health, she needed warm air.
In 1814, during the Vienna Congress, brilliant balls were organized, where kings, princes and emperors of all states were present. Thanks to the natural beauty, feminine grace and sophisticated voice, she occupied a good niche among the highest aristocracy of Europe.
So, she met Prince Vasily Golitsin, and later married him, and remained forever living in his homeland, in Simferopol.
Even in adulthood, she was beautiful and fresh, like a rose, retained good vision and mental clarity, charming amiability and kindness.
Even D. Rossini in her honor dedicated to the rope, which he later used in the finale of the opera The Barber of Seville
She was friends with the blind poet I. Kozlov, as well as with A. S. Pushkin and V. Zhukovsky.