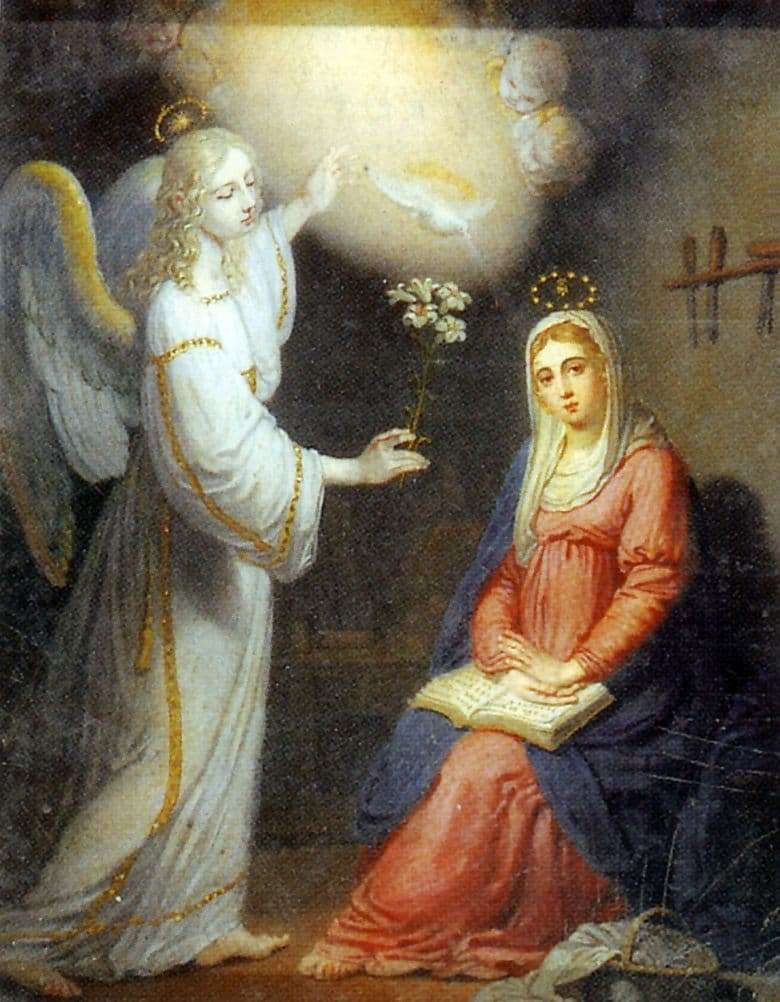 The Annunciation – a painting by Vladimir Borovikovsky, presumably written in 1810-1820, represents one of two types characteristic of his work – religious motifs and secular portraits. The picture is in the Russian Museum of St. Petersburg.
Vladimir Lukich Borovikovsky was a Russian artist, who was considered the main portraitist of Russia at the turn of the 18th and 19th centuries. He was born in Mirgorod in 1757. His father, Luke, was a Cossack and a great lover of icon painting. According to the family tradition, all four sons of Borovik served in the Mirgorod regiment, but Vladimir quit at an early age and devoted his life to art, working mainly on iconography for local churches.
Borovikovsky, perhaps, would have lived the rest of his life as an amateur artist in a provincial town, if not for an unexpected event. His friend Vasily Kapnist was preparing housing for Empress Catherine II in Kremenchug during her trip to the newly conquered Crimea. Kapnist asked Borovikovsky to draw two allegorical pictures (Peter I and Catherine II, like peasants sowing seeds) for their rooms. The Empress liked the pictures so much that she asked the artist to move to St. Petersburg.
Beginning in 1795, he became a popular portrait painter and created more than 500 portraits in his entire life, 400 of which have survived to our time. He had his own studio, and he often used the services of helpers who painted the less important parts of the portrait. Among those who posed for him were members of the imperial family, courtiers, generals, many aristocrats and figures from the Russian artistic and literary world. Most of his portraits are intimate in style.