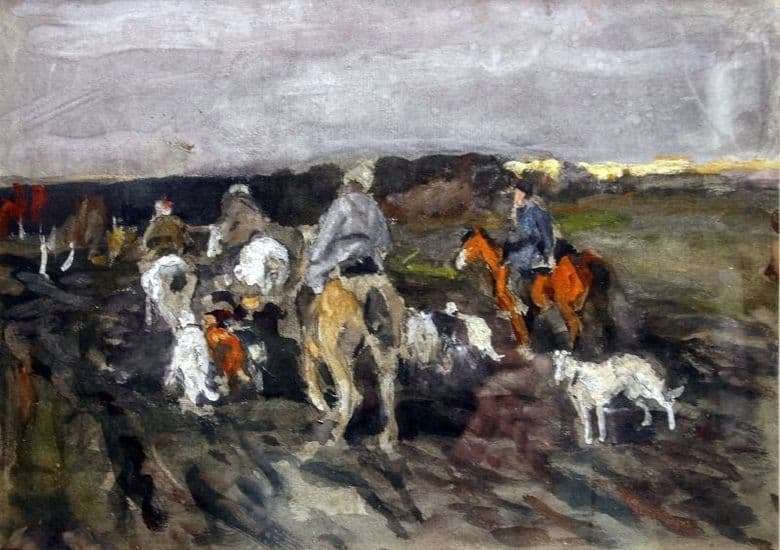 Painting Alexei Stepanova today is mainly in private collections. Alexey Stepanovich was an amazing person – he had such a soft and docile disposition, loved people so much – that he received this love from everyone around him in double the amount. Incredibly positive, he looked at the world like a child – in surprise and joy. And his perception of the world reflected in his paintings.
Most of all Stepanov loved to draw animals. Dogs, horses, wild animals, hunting scenes make up the lion's share of the works of this master. Throughout his creative life, the artist collaborated with the journal Nature and Hunting, in which he actively published his drawings. He also taught animalistic painting at the Moscow School of Painting, Sculpture and Architecture. Great influence on Stepanova had the creativity of the French Impressionists.
The painting "On the Hunt" depicts a typical hunting scene with dogs. In the midst of a dirty gray, wet road, snow-white hound figures look spectacular and set up a festive mood – the artist perceives the hunt as a kind of holiday. The riders' gaze is fixed on the distance – perhaps one of them has already seen potential prey.
Despite the fact that the hunt was a particularly frequent motive in the artist's work – he did not treat it as a mere murder. Stepanov knew and understood the habits of various animals, studied them in the wild. The realistic image of the wild fauna has become one of the distinguishing features of all the works of the artist. As for, for example, dogs – the author distinguished the slightest differences in the behavior of different breeds. All this made him a truly great Russian animal painter – unfortunately, partly undeservedly forgotten.