Home

⇒
📌Sokolov Peter

⇒
Description of the painting by Peter Sokolov "Portrait of Yulia Sokolova"
Description of the painting by Peter Sokolov "Portrait of Yulia Sokolova"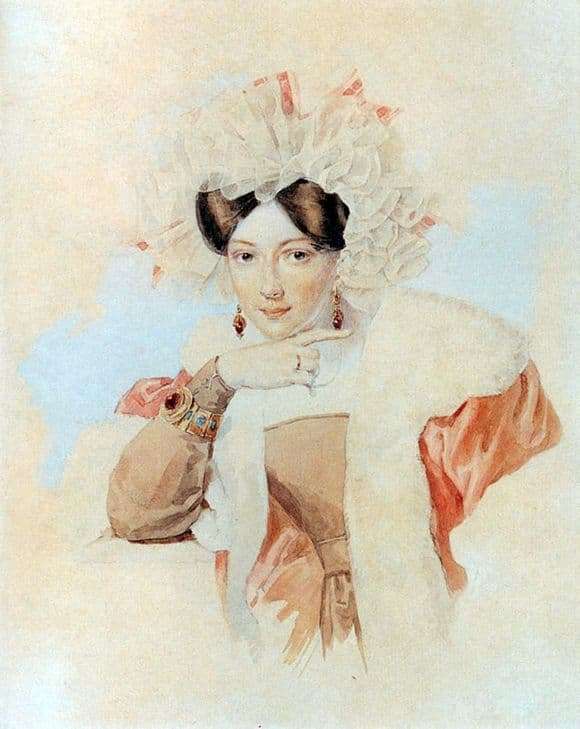 PF Sokolov is known as the first Russian artist, who decided to paint a portrait exclusively with watercolors, and marked the beginning of a new genre in Russian painting.
For the first half of the XIX century, the actions of P. F. Sokolov as a portrait painter were truly progressive, which is why the artist was repeatedly invited to paint portraits of famous personalities who lived both in the Russian and in the French court.
Particularly noteworthy is the portrait of Yulia Pavlovna Sokolova, nee Brullova, who became the artist's wife in 1820. Julia Pavlovna was the sister of the famous Russian painter Karl Bryullov.
The latter was extremely unpleasant choice of sister, who decided to marry in not the full 16 years. Bryullov sincerely believed that Sokolov made an offer to his sister in order to take possession of her considerable dowry. Naturally, this was not the case. PF Sokolov loved his wife very much,
whose portraits subsequently decorated more than one private and public collection.
The best of all portraits was painted in 1827. According to the artist's son, the portrait of his mother was painted by his father in the early morning. It took only one day to make the portrait complete.
The portrait is painted with light-colored watercolors. Unlike many portraits of previous eras, the background is also chosen light, not reflecting anything and allowing you to fully concentrate on the beautiful features of the face and the decoration of the depicted woman.
The girl in the picture is depicted in a sitting position in a half-bent pose. Her one arm is bent at the elbow and rests on a tabletop or chair, to understand exactly what is impossible due to the blurring of the edges of the portrait.
On the girl's hand is a beautiful bracelet with a huge ruby-colored stone, she is dressed in a dress of pastel shades, a white shawl is thrown over her shoulders. The girl's ears are decorated with large pendant earrings, brown hair is tucked away under a cap, whose ornate curls give the portrait some kind of romance.
The girl's gaze is straight, her eyes are wide open, she is looking intently and thoughtfully towards the viewer. "Portrait of Sokolova" is considered perhaps the best of all that came out from under the brush of the artist.





(
1
votes, average:
5.00
out of 5)
Description of the painting by Peter Sokolov "Portrait of Yulia Sokolova"