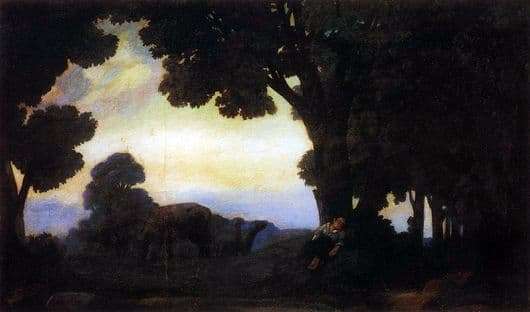 In the light mist of dawn, a little froze from the freshness of the early morning, the shepherd boy sleeps under a tree. Immediately it becomes clear that he spent here all night. His players graze nearby, but never slept all night. They calmly graze nearby to look after the owner for a bit, but at the same time, not to disturb him.
Without noticing that it is already dawning, his face is peaceful and calm, still in the grip of sleep. Being in contrast, the sky and the dark forest enter into an unequal fight for the territory, however, and so it is clear that the nights will not soon take over. The first faint rays penetrate, but the night calm reigns in the sky and light clouds are in no hurry to leave the refuge.
Golden ribbons see the morning sky through the dense and heavy branches of the trees. The densely overgrown forest, in its gloomy appearance of the night, stands motionless, neither the animal nor the bird is visible anywhere – they are still asleep. Not even a blade of grass, not a knot, does not show from a dream. Only the golden sky and the bright blue with bluish glimpses of the sky inform the shepherd boy of the dawn.
Judging by the pacification on the boy's face, he likes this place very much, here he feels safe and calm. Turning to face the forest, he seemed to trust him with his dreams, giving himself to the defense of nature.
There are no smooth transitions from shadow to light, because the author wanted to portray the dawn as the winner over the darkness of the night, as a conqueror, who, with his decisive actions and pressure, takes the city. The artist showed us the subtlety of the transition from night to day, from darkness to light, from death to life. There are no borders, everything is one in its constancy and dependence. Without dark tones and a gloomy forest, the difference between night and day would not be so noticeable.
The viewer in the picture will see peace and hear the silence, which even annoying crickets do not violate.