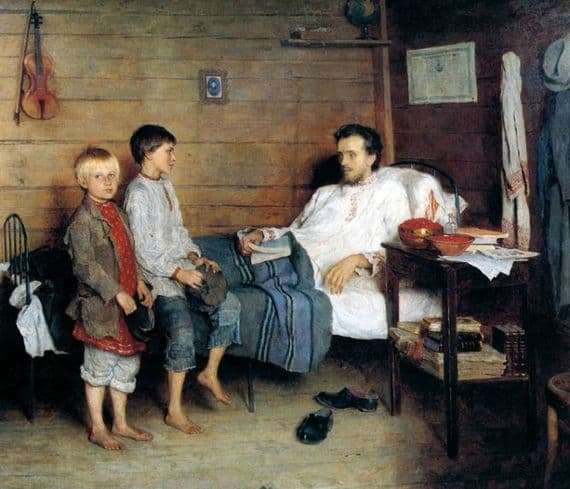 The painting was completed in 1897. The style in painting is realism, genre-genre painting.
The painting is in storage at the State Tretyakov Gallery.
Bogdanov-Belsky was born in a poor peasant family in Smolensk Province. From childhood, he showed an interest in painting, and after receiving his primary education he went to study icon painting at the Trinity-Sergius Lavra. His paintings were appreciated at the very beginning of his creative life, he received many awards and was awarded the title.
Bogdanov-Belsky is considered to be a peasant theme artist. Because his main work falls on the description of the life of simple, poor people. He loved to paint portraits of children, although he never had his own.
The artist led a reclusive life, completely surrendering to art. In his canvases often touched on the theme of the peasant school. She always worried him, because once he was a poor boy from a poor family dreamed of getting an education. His paintings are filled with kindness, love and peace.
After 1894, the artist creates a cycle of paintings devoted to the folk school, which was formed by Rachinsky. "A sick teacher" is a picture from this cycle. On it the artist depicted children who came to visit his teacher. He is very sick, that he cannot even get out of bed. But at the same time he is wearing a snow-white shirt, which seems to make his image holy. His face is very kind, he sincerely worried about his peasant children, even trying to tell something, because in his hands is a book.
The boy, sitting on the bed, looks at the teacher with care and sympathy. Blond comrade looks confused, apparently does not know how best to behave. The situation in the teacher's house is very simple, but cozy. On the wall the artist depicted a violin. Perhaps the teacher taught music at a peasant school, or was simply fascinated by it.
The canvas makes me sad, to think about how important education for children was in those years. Illness or loss of a teacher was perceived as the personal tragedy of everyone.