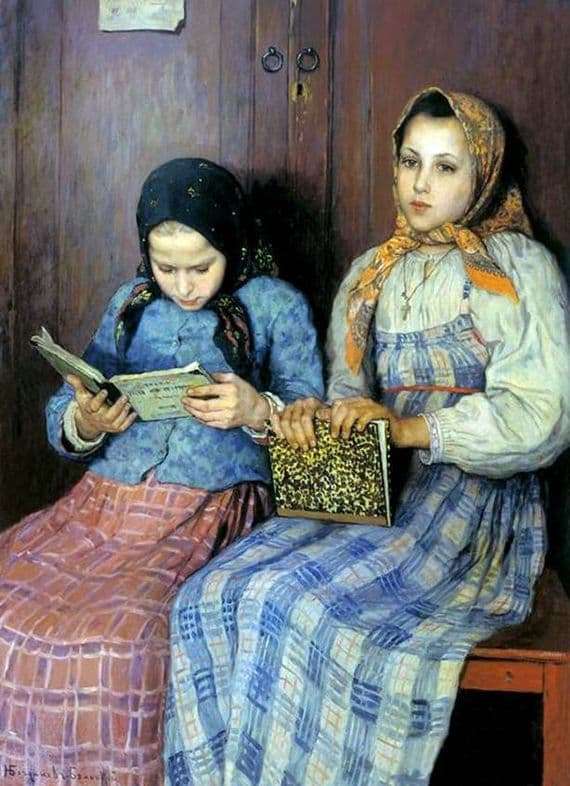 The canvas was painted in 1901 in oil on canvas.
The painting was created in the style of realism, the genre of porter.
Bogdanov-Belsky is a talented and original Russian artist. He was often called "peasant". This was due to the great love of Bogdanov-Belsky for the simple Russian life of ordinary people. He wrote a huge number of paintings on this topic, left us an invaluable heritage and the ability to return to the past. Looking at the artist's canvases, we can understand how simple peasants lived in Tsarist Russia. Pictures of Bogdanov-Belsky imbued with love and kindness.
The artist was from a poor family, he studied painting in the Trinity-Sergius Lavra. Therefore, he was so gentle with the topic of the peasants. Through his canvases, he drew the attention of other people to the inconspicuous life of ordinary people.
The painting "Pupils" depicts two Peasant girls who are waiting for a lesson. Modest clothes and headscarves show us how schoolchildren were dressed at the beginning of the 20th century. The subject of the school worried Bogdanov-Belsky very much, because he was an illegitimate child who lived in poverty with his mother in his uncle's house. He dreamed of learning, which is why he so often depicts children, books, and school.
The "Pupils" canvas shows us how important education was for the peasants. One of the students with the hope of reading something in his book. The second girl as if repeats the studied material in her thoughts, reasoning and analyzing. Their dreams are fraught with hope for a bright future.
The skill of the artist is undeniable. How carefully all the details are spelled out. Simplicity, depth and kindness are in the paintings of Bogdanov-Belsky. On the chest of the girl is a pectoral cross. People in past centuries treated God with special reverence. Artist canvases pacify, they want to look endlessly.