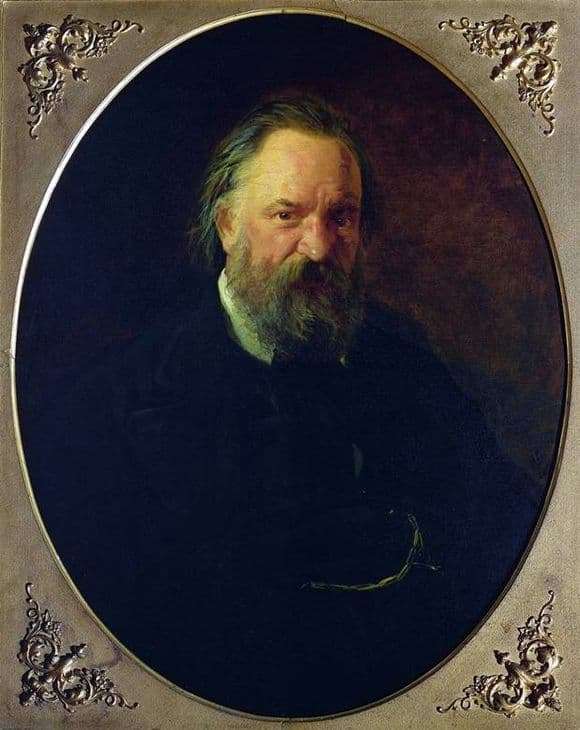 Nikolai Nikolayevich Ge wrote his famous work in 1867 in Florence. Delivered her to Russia under the guise of a picture of the prophet Moses. This was all done in secret, otherwise the gendarmes on the border would have destroyed the portrait, like an image of a rebel. Ge previously closed the portrait with a paper on which the prophet was depicted. Thus, the portrait was delivered to Russia.
They met in Florence, where the great artist invited the Russian revolutionary to work on his image for posterity. He wrote the best of all his portraits, while Ge felt himself performing civic and political duty.
Nikolai Ge portrayed Herzen on a dark background, and he highlighted the face of a revolutionary with clear, bright colors. This face as if illuminated by a ray of light, stands out among the pitch darkness. This light game has a meaning. He emphasizes the importance of the importance of the Herzen figure for the future of Russia, for further prosperity and development. The artist thus wants to say how expensive he is as a writer, as a person, as a political figure.
Ge in his work emphasizes a high clever forehead, a crossed fold, hair, combed back, lively, slightly sad eyes, full of enthusiasm, energy. Direct gaze, focused look stands out in the portrait, he seemed to be looking into the future. The mouth is not hidden behind the beard, the same with the gray, like the hair of Herzen.
The artist showed the writer in all spiritual power, with a powerful intellect, piercing gaze. Ge is not in vain Herzen's costume is depicted in the same color as the main background. He thus chained all attention to the face, which emphasizes all the charm, courage, intellect, spirituality, and wealth of the inner world. The image of Herzen reflected his interests, position in society, features of the revolutionary era.