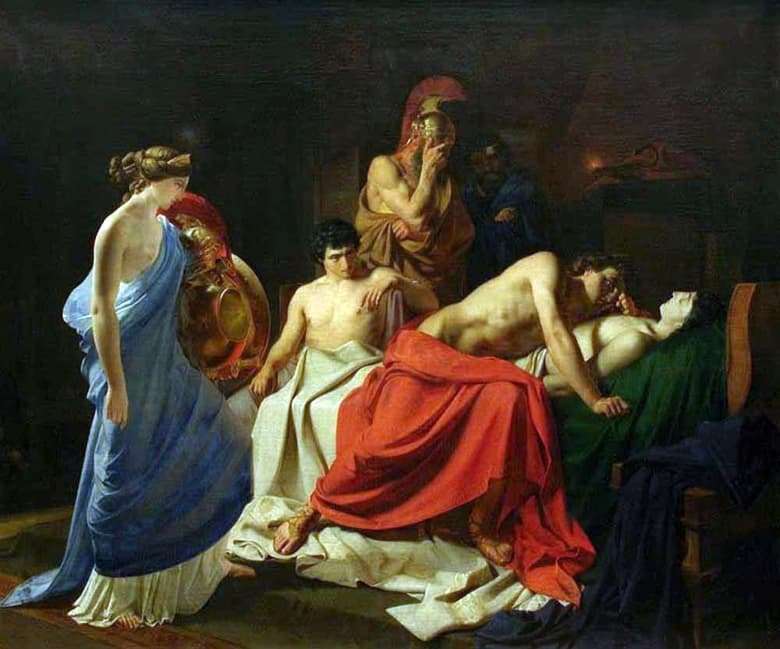 Nikolai Ge painted the painting Achilles Lamenting Patroclus in 1855.
In this work, he portrayed the mythological plot of Homer's Iliad. It tells about Achilles. Trojan Hector has resorted to the help of Apollo to kill Achilles, but instead he dies Patroclus, who put on a friend's armor. The Trojans took the armor as a trophy. Achilles so closely accepted the loss of a friend that he thought from grief about suicide.
The painting depicts the dead Patroclus, lying on a wooden bed with pillows on a green bedspread. His body is half covered by matter. Achilles, mourning and weeping, bowed over him. His grief is huge and inconsolable.
Not far from them stands Fedit – the mother of Achilles; she holds in her hands new wrought gold armor for her son, who, at her request, he forged Hephaestus.
Among the mourners is the Myrmidon warrior, who bowed his head and covered his face with his hand to demonstrate less of his tears.
The images in the picture are depicted with an incredibly clear portrait. Each of them, the artist clearly prescribed not only the features of the face and body, but also each fold of clothing.
Artist paints for fabrics were chosen bright and saturated, which are harmoniously combined with each other. But the background itself, which depicts the scene, is very dark. It can not be called dull, because all the furniture in the room has retained the relief clarity of each item. But the color palette of brown color fully corresponds to the drama of the current event.
The sculptural interpretation of the images and the clarity of the heroic theme with which the artist approached the transfer of the plot, combined with the vivid colors of the painting, brought the artist a small gold medal.
To date, the picture of Nikolai Nikolayevich Ge "Achilles mourns Patroclus" located in the Belarusian Art Museum in Minsk.