Description of the painting by Nicholas Romadin "Kerzhenets"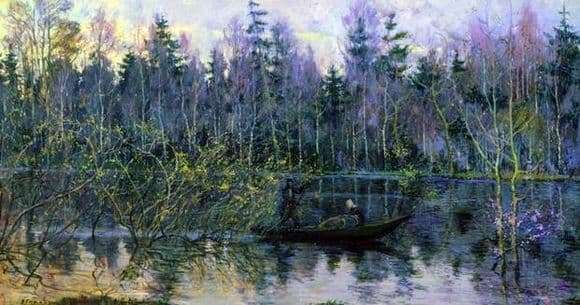 Nikolai Mikhailovich Romadin became a famous artist thanks to the realistic landscapes that he loved to portray. Most of his works are landscapes, although he was engaged not only in visual arts.
The painting "Kerzhenets" was one of the most popular works of the artist. This picture was also liked by Nikolai Romadin himself. He was inspired to write this landscape at the very nature, or rather, at the nature of Russia. After all, Kerzhenets is a river that flows in the heart of the forests of Russia. Dense forests, swamps, meadow meadows – this is the most beautiful places for the landscape.
"Kerzhenets" was written in 1946. The picture is made in bright, but not straining colors. Eyes nice to look at everything that happens. The background is blue-green trees. In the foreground, you can see sparse bushes with yellow-green foliage. But the most important thing in the picture is the river.
It is dark blue, reflects the birch and spruce trees, bushes and the floating boat.
Despite the fact that this is a landscape, there are people in the picture. We see the boat floating on the river, and there are two people in it. These are fishermen. One stands and rows, and the second sits. Persons are not visible, but we understand that they are fishing, and, probably, their mood is good. Their clothes are warm and dark, perhaps the action takes place in spring.
The picture itself breathes tranquility. Looking at it, does not want to think and philosophize at all. You just understand that nature is the most important thing. If you listen and fantasize, you can hear the ducks, see the stains on the water and feel the breeze.
Even despite the fact that there are people in the picture, it is clear that the main character of this landscape is the majestic river. It is medium in size, not rugged, but it is the main one. Because – it is part of nature. And the main point of all landscapes is to show the greatness and beauty of our world. With this Nikolai Romadin coped perfectly.





(
1
votes, average:
5.00
out of 5)
Description of the painting by Nicholas Romadin "Kerzhenets"