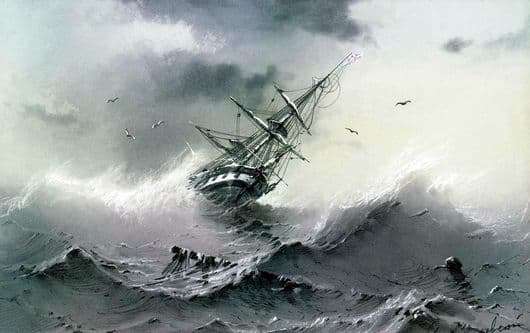 Aivazovsky is known as a professional marine painter. He left a big mark in marine painting. The artist personally studied the life of the ship and saw the sea with his own eyes. An impressive visual memory allowed him to reproduce various states of nature on canvas. In each of his paintings, he retained memorable color and brightness, conveyed the charm of sincere warmth and light. And it is precisely this that catches all fans of the work of Ivan Konstantinovich. The painting "Sinking Ship" clearly shows the skill of the artist. He was able to portray strong waves and intense wind with a pencil and gouache. This majestic and emotional masterpiece was written in 1854.
The shipwreck is so realistic that it makes you worry about all the crew members. Huge waves threaten the ship. Powerful and big waves can easily overturn such a small ship. These cold and foaming waves seem to permeate you from the inside. Gray storm clouds, a stormy sea with huge waves hurl a small ship. They convey excitement, in connection with the possibility of mortal danger, but at the same time a romantic lift is felt. The seagulls flying over the ship create a slight feeling that hope has not yet been lost. One feels a quiet sadness in front of a powerful force, the elements that are beyond the control of a person. You can see painstakingly sketched details that will not leave anyone indifferent.
The sea enchants any person with its captivating beauty. Looking at the picture you simply dissolve in the depths of the sea. The gray sky and the spray from the waves reinforce the impression of a raging hurricane. The picture is made in the same color style: gray and black shades. Each stroke of the artist betrays more and more drama. Aivazovsky's success lies in his ability to convey the shocking realism of what is happening.