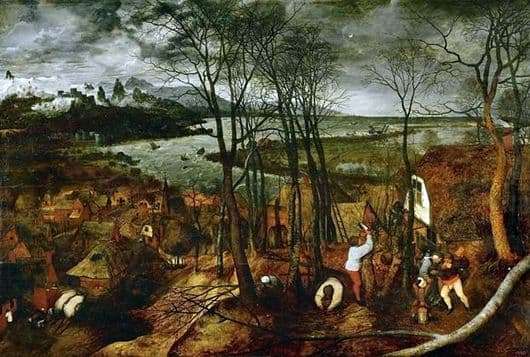 This is about whom one can say for sure that the author is a gloomy, pessimist who does not allow bright moments in life. Alas, but it seems that way. Whatever the canvas they were not written – it is still gloomy, some dirty – gray. Perhaps, this is how he tried to influence those who saw these canvases. It is not known whether the simple public saw his works, since the case was in the Middle Ages, but if she did, then she was probably clearly in disarray.
Here, for example, this canvas refers to the series "The Seasons", in particular, on this canvas "February-March." That is, it is just that time when winter recedes, and spring arrives. And what do we see? First of all, we notice people, but so far only briefly. We peer into the landscape more. And he is far from being so lyrical: a gloomy sky, the sea is clearly on the verge of a storm, and fog is pouring from behind the mountains. And snow heights also do not inspire optimism.
The earth itself is light brown, but in principle everything is in this brown shade and works in this canvas. There are other colors, but they only reinforce a certain depression. But back to the people. What are they doing in this weather? Someone to work – pruning trees, gathering brushwood, something brought on a cart. And someone is just-simply robbing his own citizen. Fun? For some, maybe yes, but obviously not for a simple inhabitant.
The artist painted such canvases either five, or seven, or even all twelve canvases. Exactly unknown. But it is precisely known that such a series of canvases was on conservation in museums now there are five of them. Museum workers really still argue about the exact number of paintings.
It is said that many of Bruegel's works were lost, therefore there is no exact certainty in many respects as regards his work. And then Bruegel three – a father and two sons. And over time, they even became confused. It is good that now they have already figured out more or less.