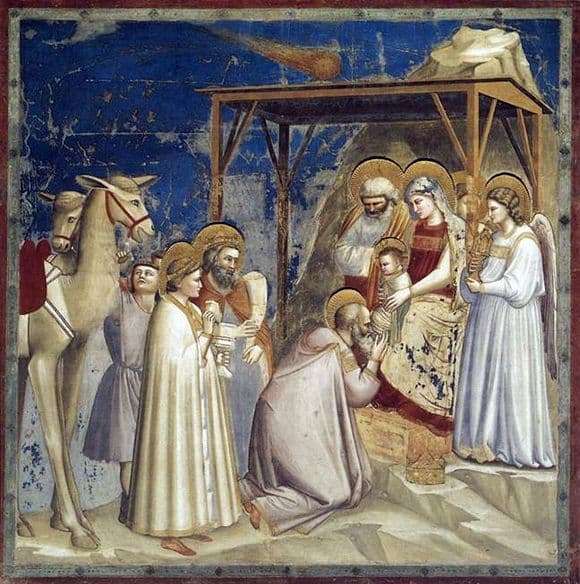 The Adoration of the Magi is one of the most famous works of art in the whole world, written by an Italian master painter and architect Giotto di Bondone in the era of Proto-Renaissance.
Giotto is famous for its influence on all Western European art, its traditions of painting and design are still many centuries later appreciated by masters of art. It was Giotto who managed to create a new, improved image method on the plane of space. Should I say that even da Vinci and Michelangelo admired the works of Giotto.
The most famous works of Giotto di Bondone are still his frescoes, preserved to this day, in the Scrovegni Chapel, in the Italian city of Padua. Made in tempera at the beginning of the 14th century, the frescoes depict religious themes, as was customary at that time. The Adoration of the Magi is included in this cycle.
The work depicts a scene from the Gospel, where the Magi come to worship the infant Christ. The wise men, the wise men who have come a long way from the East itself, bring gifts to the future Savior of Mankind. According to the story, they saw a star in the sky, which gave them the news about the birth of a baby – the future King, for whom the wise men were ready to go even a long way.
The mural has been preserved in good condition, the restoration helps to extend its life for many more years. The multi-figured composition was composed by Giotto so well that each character is clearly visible and takes part in the overall action – even the two donkeys on the left greet the future Tsar.
To the right of Mary and the infant Christ is shown an angel, whose white robe stands out in the general coloring. The blue sky contrasts sharply with the light figures, it shows the comet Halley – an important and interesting detail for the frescoes and works of Giotto.