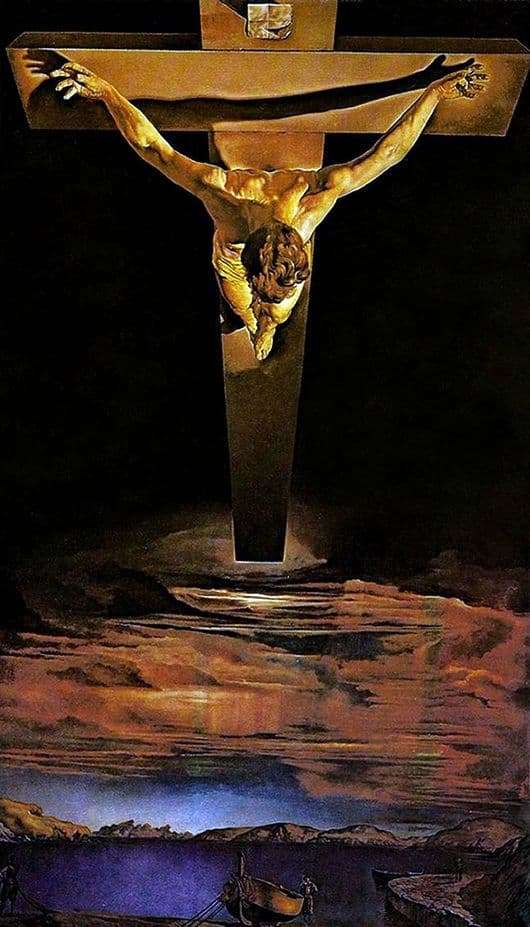 Dali in his picture wrote the image of the Spanish poet-mystic Juan de la Cruz, who presented in the guise of St. John. This hero of the story was a champion of human freedom. The church should not play the role of God and its mediator, it should only help to fulfill the pressing problems of mankind and help with the word. At that time, it was just a dream, because religion became a tool of power over people.
Juan de la Cruz has put forward a new theory of the development of mankind, associated with the higher sphere of the mind is not subject to the ordinary mortal. He represented life as a procession in the darkness, not everyone will be able to get out of it. Like Christ, a person must wait, and seeks to be reunited with the Secret Being, allowing him to free himself from the mundane, having obtained peace and tranquility in his soul. Only suffering will allow you to be in heaven.
They gave a long time to read De La Cruz's worldview. He decided to combine in the picture the features of what was close to him.
Canvas can be considered for a very long time and every time to find something new. After all, the artist used several plot lines, combining into one. The fishing boat and the sea, which are depicted at the bottom of the picture, symbolize enlightenment, you can understand this by a bright sky away, calling for you to begin the path to a better life, which is unknown and mysterious as space. A kind of black abyss, where you can see Christ suffering for humanity. He points the way to enlightenment. The reddish sky represents sacrifice and suffering coming in the future. Dark background – loneliness, in which everyone will be.
The picture evokes a double feeling, an oppressive feeling that the darkness is hidden not only outside the person, but also in himself. Comparing the symbolic cross of people and the cross of God, the artist reveals the deepest secrets of philosophy.