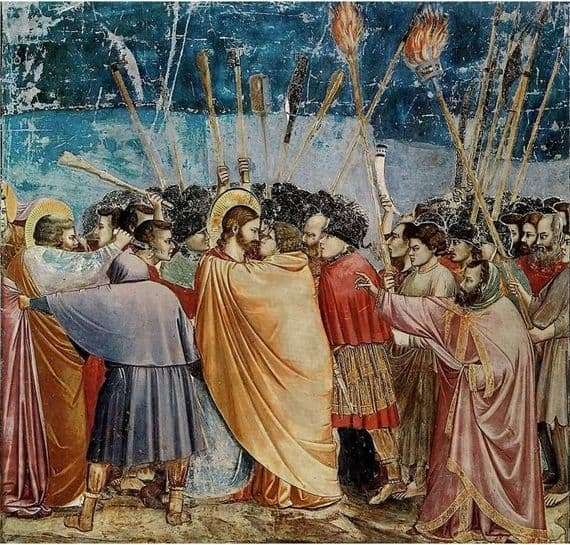 Florentine painter Giotto di Bondone was one of the first artists who portrayed Judas the traitor. His picture of the Padua cycle "The Kiss of Judas" is a vivid example. This famous painting tells the contemplator about the confrontation between good and evil, about the greatness of the soul and meanness.
The entire canvas background is a dark blue sky, to which spears and lighted torches are leveled. Among this vanity, two figures stand out in profile – Jesus Christ and his disciple Judas Iscariot. Savior and traitor look into the eyes of the opponent. Here Giotto very skillfully with the help of paints conveys the inner world of biblical characters. So, Christ has the immaculate appearance of ancient beauty, but Judas looks ugly, his face with a low forehead is rather unpleasant.
We can say that the plot of the painting "The Kiss of Judas" Giotto directed from the gospel story about how the disciple of his Master betrayed. Giotto depicted the fresco as Judas led the guards to seize the teacher, but before that he embraced him hypocritically. Flare lights blaze around, spears and batons flash, creating an exciting picture. The crowd is in alarm, everyone is in increasing tension. Two opposites came together – the high and the immoral.
With the help of graphic elements and techniques of painting, the master brush was able to subtly convey all the feelings that the characters experience in their silent dialogue. The feelings of the interlocutors are transmitted only by their views and gestures.
By all means, the artist tries to give life to the scene: he presents the eyes in the profile image, leading them into the depths of the picture. It seems that Giotto invites the public to take their place in the picture so that it is easier to determine their attitude to what is happening.
Connoisseurs of creativity Giotto consider his painting "The Kiss of Judas" one of the most impressive frescoes with a dramatic plot.