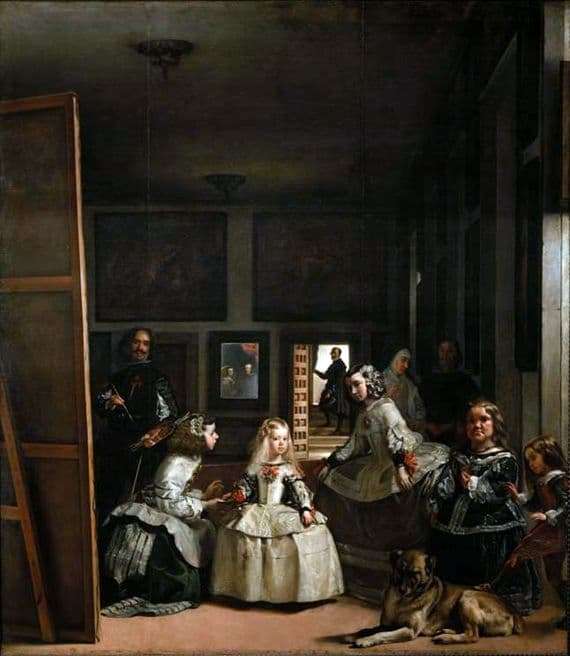 The painting is a famous work of the artist Diego Velázquez. Some will recognize this reproduction under the name "The Family of Philip IV." At the moment, "Menin" can be seen in the Prado Museum, which is located in Madrid.
The painting depicts a studio owned by Velasquez. It was located in the palace of the king in Madrid. The author is writing a portrait of Philip IV with his wife, Marianne, who can be seen in the mirror on one of the walls of the atelier.
In the central part of the picture is placed an infanta of five years, whose name is Margarita. It seems that she came recently accompanied by her retinue. The light together with the gaze of her parents is directed at the child.
Velazquez tried to recreate a happy family, which has enough money to spend their future comfortably. It should be noted that this picture is one of a kind, in which the king and queen are depicted together, but not very clearly. Everyone knows that Philip IV is the uncle for his wife and his age is 30 years older than his wife. When the picture was written, Margarita was the only child of the couple.
A special feature of the Infanta is her ability to control herself and realize her own greatness at such a young age. Her gaze is directed exclusively at her parents. This way she wants to show that she can stand still and keep herself properly. Margarita is aware of the king's restraint with the queen, so the girl seeks to please them in any way with her behavior.
The court ladies who surround Margarita are members of the most famous aristocratic families of that time. Young ladies are imbued with court etiquette. To make the picture rigor the author portrayed the court servant on the left side of the picture.