Description of the painting by Diego Velázquez "Philip IV"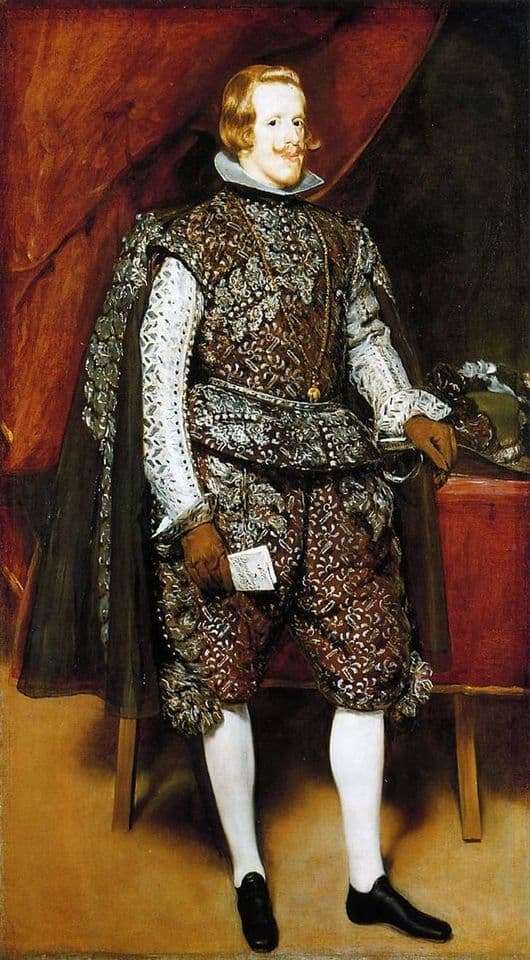 This is one of the many portraits of King Philip IV, painted by Diego Velasquez. This picture was created by the artist after returning from Italy, where he studied the canvases of famous painters.
By the time of writing the picture Velasquez for several years worked as a court artist. Philip IV was an admirer of his talent. That is why he said the phrase: "No one but you will write me anymore."
The picture shows a young king in full growth in a suit embroidered with silver. Philip IV is stately and calm, as befits a royal person. His lips are compressed, and his eyes are a little sad. But the face does not darken anything, there is not a single wrinkle on it.
In the background is the King's hat lying on the table. On the left – a curtain. The background of the painting is intended to set off the king's figure. Nothing distracts the eye from Philip IV.
In his hand the king holds a folded
sheet of paper. Velazquez put his signature on it. The artist did not sign all his portraits. The presence of an autograph indicates the significance of this canvas for Velasquez himself.
Even without knowing who is depicted in the picture, one can guess that this is a wealthy and domineering person. This is indicated by the pose. A man stands with his left hand on the hilt of the sword. Such a posture speaks of power and might. Rich suit also indicates a noble origin. On the neck hangs a long golden chain with the sign of the Order of the Golden Fleece. Only members of noble families were dedicated to this order.
This portrait once again characterizes Velázquez, as a master in drawing the texture of fabrics. If we consider the canvas close, then before my eyes there will be a huge variety of strokes and points. But if you step back, they will all line up in a complex pattern. With his technique, the artist was able to convey the volume of embroidery and the brilliance of silver. It is also visible that the cape is sewn of light fabric, since the background shines through it.





(
2
votes, average:
4.50
out of 5)
Description of the painting by Diego Velázquez "Philip IV"