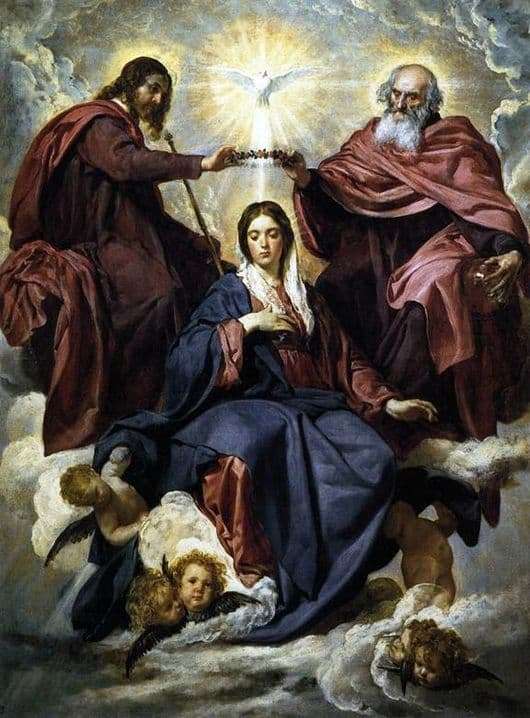 The canvas was created by the artist in 1645.
By this time, Velázquez was already quite famous. He could paint in different styles: genre painting, religion, history, myths. Velazquez had a special handwriting, which was inherent only in his hand.
The painting depicts the coronation of the Virgin Mary Holy Trinity. A great event takes place in heaven, after the Dormition of the Most Holy Theotokos, which it was worthy to accept for its purity, integrity and holiness. Cloth Velázquez describes the last of the episodes of her life – the climax, according to the Roman Catholic Church. Later, similar episodes were depicted on the walls of all Christian churches.
It is the coronation that makes the Virgin Mary the Queen of Heaven. This event is celebrated by the Catholic Church, in Orthodoxy there is only the feast of the Assumption of the Virgin. Velazquez depicted this event with a special depth on his canvas. The face of the Mother of God is filled with light, humility and prayer. Her Savior's son and the Lord hold a crown of flowers over her head, which heralds her ascension.
Above their heads, the artist depicted the divine light. Now the Virgin Mary becomes the right hand of the Lord God and intercedes for sinners. The holy spirit, which is depicted as a dove, illuminates a great event with an incredible light.
Angels and cherubs fly around, rejoicing and singing the Queen of Heaven. The picture is fascinating. How skillfully, paints are selected, all details are registered.
With his creation, Velázquez makes us think about sins, imbued with thoughts about the meaning of being and staying on this earth. The picture is depicted according to all Christian canons. Velazquez was really a genius of painting in all its manifestations, leaving behind the greatest legacy that has remained in the hearts of those who are confronted with his work for centuries.