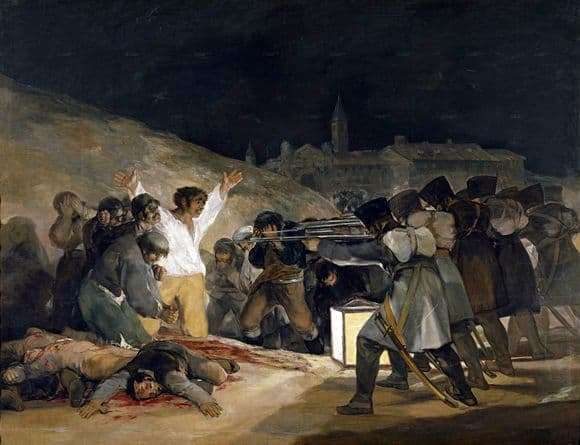 In 1808, an event occurred in Madrid that inspired Francisco Goya to create a unique masterpiece. In early May, a revolt of patriots against the French who occupied Spain broke out in this city. It was crushed by Napoleon's troops.
Fighters for the independence and freedom of his native country were condemned to be shot. After the final victory over France in 1814, the artist painted the moment of this execution on the night of May 3, ordered by the government. However, the authorities could not appreciate the work done. Probably, the bold and original style of writing the canvas was incomprehensible to the conservative government. But now the "Shooting" Goya – a notoriously recognized masterpiece in the genre of historical painting.
Too realistic, without embellishment and close to the common people written canvas. In the composition center – a young rebel in a white shirt and yellow pants; at the dawn of his life he looks into the eyes of death, looks with horror, but even more with pride. In the hands of a brave Spaniard, stigmata are noticeable – the artist compares the hero with Christ, who also became an innocent victim of soullessness in the struggle for great moral ideals.
The faceless ranks of French military servants aim their rifles at him; the soul does not feel at all in them, as a cruel thoughtless machine they carry out Napoleon's order. Shocking image next to the already killed fighters for independence: blood on the ground, bodies and clothes. The crowd going to be shot – with drooping heads, close their eyes with their hands, their fists clenched in fear.
Goya wrote "Shooting" as an anti-war protest. The artist tried by all means to depict the inconceivable cruelty of the puppet authorities. He hopes that the viewer, looking at the picture, will reflect on the horrors of war and damn this monstrous inhuman act.