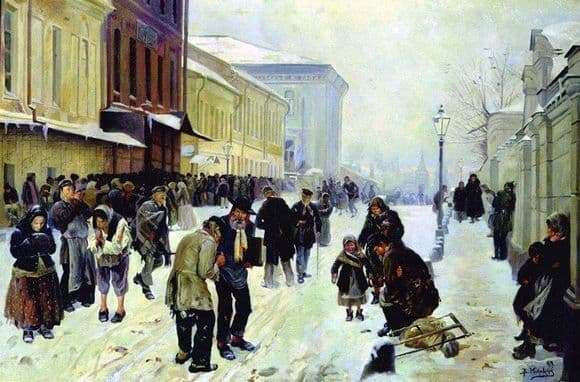 VE Makovsky – a typical representative of the Peredvizhnicheskogo direction in painting. The canvases created by him draw the viewer's attention to ordinary people who are deprived of life; they convey their small joys, emotions and cares. The central figure of almost each of Makovsky's paintings are the poor and the poor, left without a livelihood and the attention of loved ones. For such people, an overnight house is the only place where they can find temporary peace, shelter and food.
The central place in the picture is reserved for people dressed in pathetic rags. They huddled in the street covered with snowdrifts in an attempt to keep warm at least with the warmth of each other's bodies. Some of them are moving, others are frozen in a long line, stretching to the door of an overnight house. There are too many people willing to get there, and certainly not enough for everyone. People drowning in snowdrifts perfectly understand their unenviable position, but do not give up hope.
The emaciated faces of people are thoughtful and sad. Each of them has its own history, which led to this unenviable position. There are unforgettable drunks among them, those who find themselves on the street for debts, and those who have never had their home because of social injustice and lack of humanity among those who surround them.
Special attention should be bent figure of the old man in the foreground of the picture.
The man is dressed in a battered frock coat and a wide-brimmed black hat that has never seen better days. The old man's face turned red from the cold, short pants do not cover his bare legs, a black folder is clamped in his right hand. Next to the old man, the same beggar paused, waiting for him to bring him the desired fire to light his cigarette.
Those familiar with the work of Makovsky, the audience, will easily recognize in this old man A. K. Savrasov. The last days of the famous painter were marred by poverty and loneliness. The small orders that he was able to get, did not allow to rent housing, forcing him to wander through the night shelters. The canvas is imbued with the spirit of realism, the desire to convey the pain and pity that the artist felt to the disadvantaged people. The date of writing the picture is the year 1889.