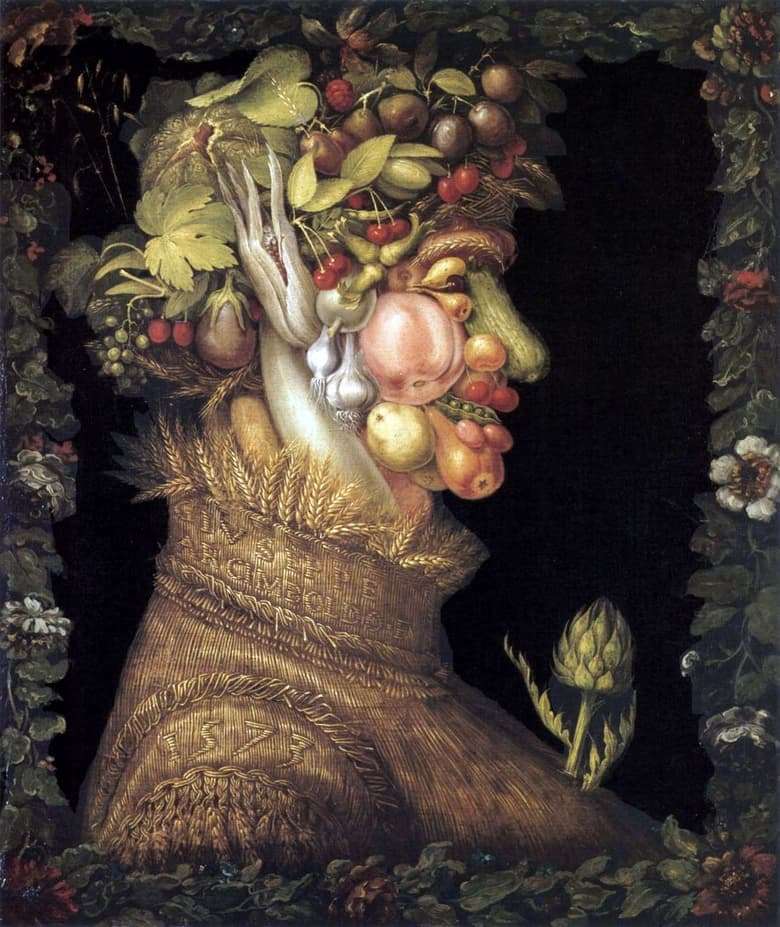 Created in 1573 Materials: oil on canvas. Dimensions: 76 by 63.5 cm. Exhibited in the Louvre, Paris, France. Another similar, but written ten years earlier, the canvas is in the Vienna Museum of Art History.
The artist was called a classic only in the 20th century, when his peculiar work was rediscovered. It is remembered for unique allegorical works in which people are portrayed with the help of completely different things, ranging from birds or shells to books and flames. The uniqueness is that before Archimboldo in the XVI century. no one has ever done such a thing, he is even considered the progenitor of surrealism.
This work symbolizes the summer from the series "The Seasons", which consists of four stylistic similar anthropomorphic portraits. They in the complex and oversaturated elements of the composition convey to the viewer the very essence of each season. This, in the author's vision, appears as a mature woman with an attractive figure and a mysterious smile, visible even in the open pea pod. She is dressed in a straw blouse adorned with collar and sleeves with ears of ripe wheat, and if you look closely at them, you can distinguish the year of writing and the name of the painter.
Instead of delicate feminine cheeks, soft pink peach is depicted, lips are sweet raspberry cherries and grapes, nose is green cucumber, dark sweet cherry is eye, spikelet is eyebrow… Face is collected like the most unusual mosaic, but most of all contains a high hairstyle. It is well distinguishable corn cobs, eggplant, poured plums and sweet pears, even more cherries and vines, large blackberries, etc. All together conveys an allegory of growth and harvest of a rich crop that ripens for three months and begins to clean in late August.
The canvas is dominated by warm and saturated colors corresponding to the summertime, due to which the female profile shines in the middle of the black fill. Each fruit is traced with great care and realism, correctly located shadows and glare create a strong effect of image volume, which is enhanced by contrast with a dark background.