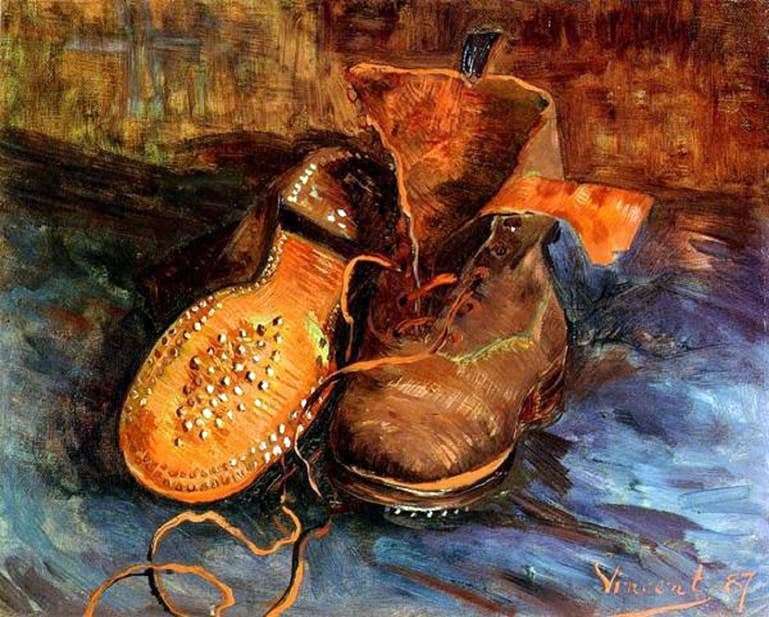 In 1887, the famous artist V. Van Gogh painted his still life "A Pair of Shoes", which was included in the "Old Shoes" series of paintings. The work was done in oil on an ordinary canvas, but, even depicting such a daily and unremarkable scene, it left very few people indifferent. It is believed that it is a continuation of the plot of another picture called "Potato Eaters", which shows the dinner of a group of peasants. None of them have their legs visible, and perhaps the artist decided to paint their shoes on separate canvases, thereby giving a hint to the further life of the shoes.
Men's well-worn boots look old and battered. They are rarely cared for, judging by how carelessly the owner has set them. The shoes are made in brown colors – the shades of shoes vary from red to dark chocolate. The artist painted with white paints several rows of nails with which the soles were hit. Obviously, the shoes, despite their weariness, remain durable and suitable for further use.
The background, unlike the shoes, is mostly made in cold colors, which visually highlights the shoes and immediately attracts the viewer's attention to them. Immediately, both modest colors and fray are immediately apparent, indicating the owner's need to save on everything. Most likely, he has acquired a single pair of shoes, practical and strong.
All work is done in the recognizable style of the artist. Rough strokes are wonderfully combined with soft ones, and the still life itself makes you think and look for the unusual in unremarkable things.