Description of the painting by Vasily Surikov "Boyary Morozov"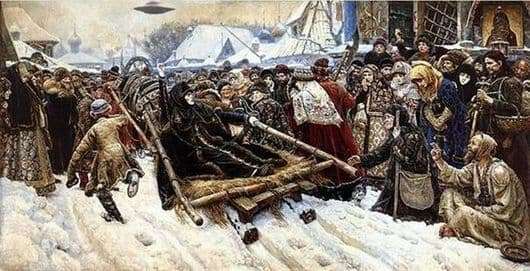 V. Surikov's painting "Boyarynya Morozova" is famous for its gigantic size and was painted by the artist in 1887, depicting a scene from the period of church schism in the 17th century. The plot was written, recalling his childhood, spent in Siberia, where the cold and hard frosts. On this canvas, Surikov presented the victorious image of an unbroken woman, carrying in the prison.
In the center of the picture one can see a lady market, richly dressed, in a velvet fur coat, which rides on a sledge-sledge. Her features are stern and bloodless, the feverish gleam in her eyes shows the gravity of his position. She is shackled, and her hands are chained. Shouting words of farewell to a crowd of people with a raised hand, she shows how insanely she is devoted to her faith and will never sell it, and the people sympathize with her and experience her tragedy. Some bow to her and some in the crowd consider it crazy.
Dressed shabby and dirty, holy fool, escorts the woman with pity.
Playing on the contrast of different fates, the artist portrayed in a crowd of shod and dressed citizens, dressed in a wretched and dirty robe of a holy fool, seeing off the noblewoman on his last journey. Among the characters in the picture, the artist depicted himself in the role of a wanderer, wandering through villages and cities. On the right, near Morozova, her accompanying sister, covered with a white handkerchief with embroidery, inspired to repeat a similar act. There is a lot of Russian people in the picture, among which are dissatisfied and sympathizing with her act, gloatingly laughing at her next.
The sense of nature is remarkably expressed: a deep trace left by the runners on loose snow, a damp winter day, dirty snow. This picture with the humiliated splitter of the Boyars Morozova, the artist presented in the victorious image of an unbroken woman, letting the viewer feel the whole tragedy of this action, to feel that difficult fate of the Russian deep-believing people. The painting was purchased for 25 thousand rubles in 1887, where it is now.





(
2
votes, average:
4.00
out of 5)
Description of the painting by Vasily Surikov "Boyary Morozov"