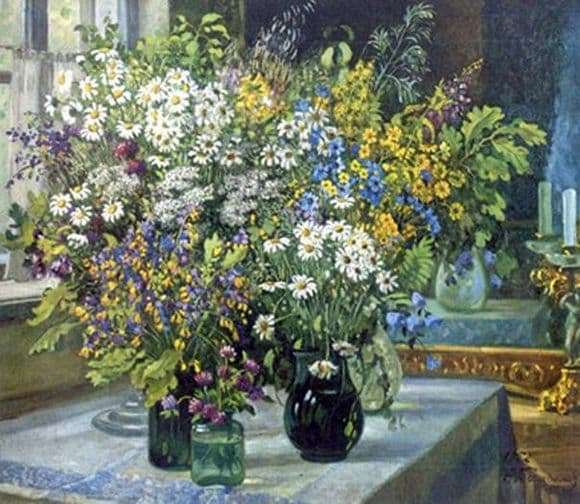 The painter Alexander Gerasimov, who lived in the Soviet Union, has always been popular, both among ordinary people and among the authorities. His work has been repeatedly evaluated by honorary state awards. Gerasimov considered himself a portrait painter. But landscapes and still lifes, he wrote no less skillfully than portraits.
The painting "Wildflowers" was one of such works of the artist. His goal was to transfer to the canvas his admiration for the natural beauty and plant diversity of his native land. The fields are picturesque and endless expanses of Russia, dotted with simple flowers and herbs. In this simplicity, the artist saw the charm and even the strength of our state, its originality.
This picture is replete with bright colors and, looking at it, it is impossible to disregard any small detail, not one leaf. But, despite the richness of the color palette, the artist focuses on the flower arrangement.
On the table in simple glass vases are not less simple flowers that can grow in nature without human care. Bouquets are made up of daisies, clovers, and cornflowers. They are complemented by oak leaves and grass blades, sweeping forms.
Soft summer light falls from the left corner of the picture. There is a window, slightly covered with a translucent curtain. In the background of the bouquets hangs a large mirror surrounded by a gilded frame.
The cold blue of his reflection and the blue of the tablecloth lying on the table underline the warm gamut used by the artist in the color of flowers.
On the side of the mirror is an elegant candlestick. Like the frame, it is decorated with beautiful carvings and gilding. By the setting of the room it can be judged that its owners are not poor peasants, but, most likely, wealthy people.
Gerasimov was able to convey to the viewer a positive attitude from viewing this canvas. It leads to thoughts of quiet rustic comfort and fills the soul with peace and tranquility.