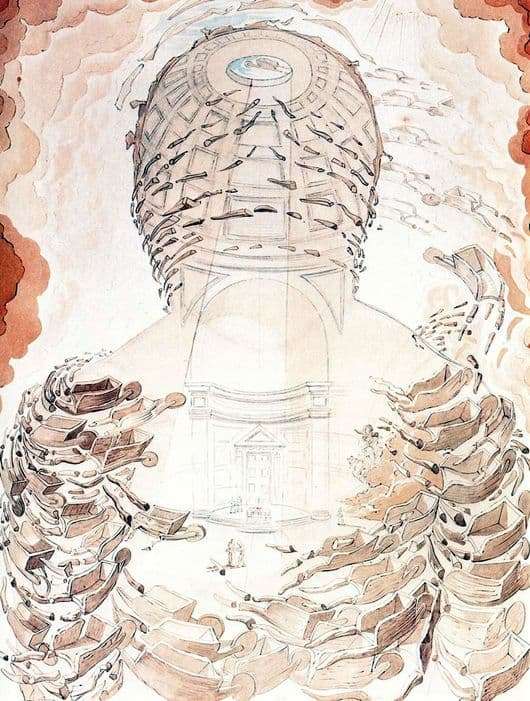 The picture is a contour of a human figure turned to us and depicted with its upper part.
All the rest is details. The arms and ribs consist of a large number of one-wheeled wooden wheelbarrows and their parts. All of them fly away like a whirlwind into a spring, where, as if in the dome of a church cathedral, there is a circular opening in which the sky shines, but in the center of the circle is a car. Cars also fly around the head and frame its massive clouds. The light from the crown of the head beats down into the chest. Here is the entrance to the temple of the Lord.
Next to us is the altar table with the Cross. And the figures of people. A couple of people are closer to us. This is a man with a dog's head, as in ancient Egyptian frescoes and a woman in a long dress, they are considering some kind of box. Closer to the gates are two churchmen in their traditional vestments. The entrance is framed by two columns, on the right a woman approaches the temple. Here, not far from her, closer to us, among the wheelbarrows is a figure that reminds us of an angel or an archangel who accompanies cars to the kingdom of heaven.
The whole picture looks more like a sketch of some global idea, rather than a real full-fledged work. Here, clearly, in some way, the artist provides us with a free interpretation of biblical knowledge about the travels of souls from the Christian temple to the temple of heaven. However, such a work clearly does not correspond to the canons of the holy church, and what was on his mind by Salvador Dali himself, when he painted this, we can only guess about it.
In colors, the artist, as usual, is stingy, basically it is a rust-red color. We can see a bit of blue on the top of the dome-head. The rest is brown paint diluted to a very liquid consistency, with thin, almost pencil-like graphic sketches…