Description of the painting by Kuzma Petrov-Vodkin "Maternity"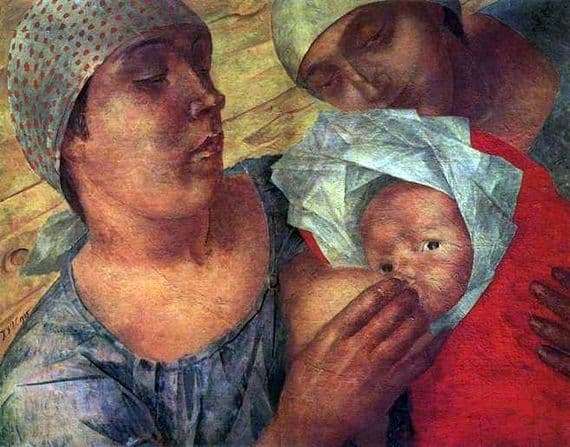 Like many artists of his time, Petrov-Vodkin believed that the work of any person of art is not just reflecting the surrounding reality in pictures as impartially as possible, but carrying some thought, changing people with their help. Give them an ethical and aesthetic lesson, instill in them the taste and thirst for beauty.
Therefore, his paintings are often permeated with light and holiness, capable of causing long-term reflections of an almost philosophical sense – they are necessary for the elevation of the spirit, so that the ordinary world suddenly seemed to the viewer to be completely different, impossible and marvelous. To things that seemed empty and stupid, suddenly made sense.
The theme of motherhood runs through all of his work – this is the "Mother" and the "Petrograd Madonna", and many others, on which a woman with a child appears as an angel, a wondrous creature permeated
with celestial beauty, standing above grayness and dirt something like a holy mission.
"Motherhood" is out of this general line – it is not an enthusiastic hymn, not a solemn song, but as if it is a recognition of the fact that being a mother is vital, it is simple, it happens often and does not cause surprise and admiration.
Many women do this and do not require special treatment for themselves, without thinking that there is a piece of holiness in motherhood.
The faces of women speak about this – lowered eyelashes, tired tenderness with which they look at the child.
This is evidenced by the look of the infant – childishly senseless and at the same time intent. This is evidenced by the mother's chest – naked casually, passing, for business, unable to cause love unrest and experiences. The same speak and muted, dark, bodily (but not dirty!) Colors – they seem to emphasize how simple and close to the ground the scene depicted in the picture.





(
2
votes, average:
3.00
out of 5)
Description of the painting by Kuzma Petrov-Vodkin "Maternity"